From a serious spinal issue to swimming with dolphins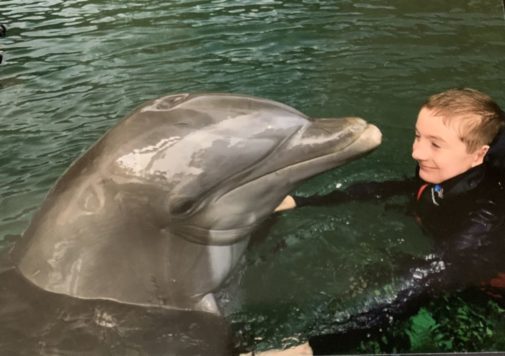 It's a huge deal that 13-year-old Caeden Strack went zip lining in Hawaii over the summer. The 7th grader, who wants to be a neurosurgeon, loves a challenge.
He's experienced plenty of them in his short life.
Caeden was born with cerebellar hypoplasia, a disorder in which the cerebellum, the portion of the brain controlling motor and coordination skills, does not fully develop before birth. While there were initial fears that he might never walk or talk, Caeden proved everyone wrong. He was walking and talking by his 3rd birthday.
Nearing age 5, yet another challenge came Caeden's way. The curvature of his spine was diagnosed as neuromuscular scoliosis. There was a brace, spine surgery and physical therapy. And when Caeden turned 9, his pediatric orthopedic surgeon at Advocate Children's Hospital tried a little "magic"…MAGEC TM (MAGnetic Expansion Control) spinal growing rods, that is.
"To minimize the progression of scoliosis during the growth of his spine, I surgically implanted a growth rod in Caeden's back," says Dr. Steven Mardjetko. "As he continues to grow, I am able to lengthen the rod with an external remote-controlled magnet in my office. In 30 seconds, I'm done. No pain, no hassle."
For those who it is appropriate, the rods replace traditional scoliosis treatment, which requires surgical procedures two or three times a year to access growth rods that are manually lengthened to straighten the spine. If the spine is not straightened, it can permanently damage the child's lungs.
"The MAGEC rods are so much easier on the child and the family," says Dr. Mardjetko. "No additional incisions, hospitalizations or anesthesia. It helps us buy time during growth spurts before we fuse the spine."
"Caeden has such a great attitude," says his mom, Kristen Strack. "The rods have made this so much less stressful. He's always up for a challenge. Not only did he zip line on his Make-A-Wish trip to Hawaii, he also swam with the dolphins."
"It is so important that kids like Caeden get to live normal lives," adds Dr. Mardjetko. "I need to keep him going, living and functioning well so he can go out there and change the world."
Related Posts
Comments
About the Author
Evonne Woloshyn, health enews contributor, is director of public affairs at Advocate Children's Hospital. Evonne began her career as an anchor and reporter in broadcast news. Over the past 20 years, she has worked in health care marketing in both Ohio and Illinois. Evonne loves to travel, spend time with family and is an avid Pittsburgh Steelers fan!