Early on, she knew something was wrong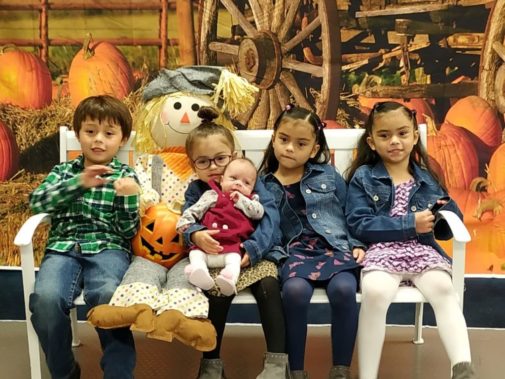 It was baby number five for Catherine Pryor. That's why she knew almost instantly that something was wrong during an ultrasound. The diagnosis wasn't clear, but she was sent for more testing.
A month of worry and anxiety was only heightened when the diagnosis was finally known. Catherine had placenta increta. Her placenta was attached deeply to the wall of the uterus and doctors knew it wouldn't separate from the uterus during a delivery. As a result, upon delivery, Catherine could face excessive bleeding that might take her life.
"I was pretty freaked out when Oscar, my husband, and I left the doctor's office," Catherine says. "It was so frightening hearing that I could bleed to death and that transfusions were risky. I was thinking that I was going to die."
Catherine was referred to Dr. Guy Steinberg, a maternal fetal medicine physician at Advocate Children's Hospital.
"This was a very serious complication with Catherine's pregnancy," says Dr. Steinberg. "In Catherine's case, the placenta was so deeply attached, it was joined with the uterine muscle. In these situations, a cesarean hysterectomy, where the uterus is removed after the baby is delivered, is required. In some cases, there can be significant blood loss, resulting in transfusions and admission to the ICU."
Dr. Steinberg reassured Catherine that he could safely deliver her baby during a transfusion-free surgery. Many women with Catherine's diagnosis have surgery and face massive transfusions.
"Here at the Center for Fetal Care at Advocate Children's Hospital, we have a transfusion-free program for women with conditions such as placenta accreta, increta, and perceta. We perform about 2 cesarean hysterectomies every month" says Dr. Guy Steinberg.  "In 2019, 100% of our scheduled cesarean hysterectomy procedures have been transfusion free, compared to about 50-70% in the years prior to 2019. It means our new moms don't need to be in the intensive care unit, routinely go home on day three and are more satisfied with their care."
In August, Catherine and Oscar welcomed little Penelope into the world at 34 weeks and 3 days. She was 5 pounds and 6 inches.  She joins siblings, Masillyn, Mayllene, Oliver and Elvia.
"After all the uncertainty, Dr. Steinberg was so reassuring, "says Catherine. "He was truly there for me. When I first met him, he was amazing. I knew I didn't have anything to worry about."
Related Posts
Comments
About the Author
Evonne Woloshyn, health enews contributor, is director of public affairs at Advocate Children's Hospital. Evonne began her career as an anchor and reporter in broadcast news. Over the past 20 years, she has worked in health care marketing in both Ohio and Illinois. Evonne loves to travel, spend time with family and is an avid Pittsburgh Steelers fan!