This serious fracture could put you to the test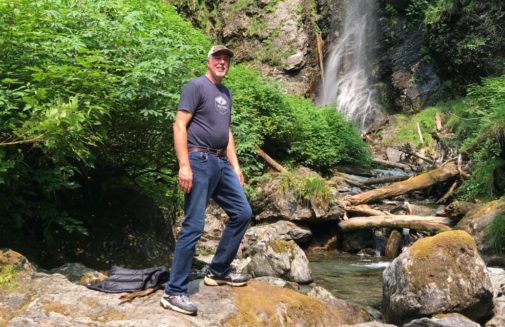 You and your spouse are hiking in Hawaii on the Road to Hana in Maui. You are about to take an Instagram-worthy photo of a waterfall, when you suddenly slip on a rock and fall a few feet off the trail. You can tell you hurt your left knee badly, and it takes four other hikers to carry you out to the road where your car is parked.
It is then at a Hawaiian medical clinic where you are told you have a fracture. Three hours later, when you get to the main hospital, X-rays reveal you have something called a tibial plateau fracture. Your leg is securely immobilized before boarding the plane for the long flight home for surgery.
This is what happened to Frank Lestina, a well-known, retired orchestra director for Libertyville/Vernon Hills High School in School District 128.
"I knew it was bad when I talked with my primary physician from Hawaii and he wanted more X-rays and for me to take a blood thinner before flying home," he says.
A tibial plateau fracture is a fracture involving the upper end of the tibia bone at the knee," says Dr. Gregory Caronis, an orthopedic surgeon with Advocate Medical Group, "When it occurs, patients have severe knee pain and treatment is critical to put the joint back together as it is supposed to be, so as to restore the correct alignment necessary to preserve the knee's functionality."
Though relatively rare in the scope of orthopedic injuries, Dr. Caronis says a tibial plateau fracture is an injury commonly treated by orthopedic surgeons with a strong interest and significant experience in the care of complex fractures.  This injury can occur in all ages and is something Dr. Caronis sees regularly as a part of Advocate Condell Medical Center's Level 1 trauma team. Younger patients tend to see them after significant traumas, such as car accidents, skiing, horseback riding and falling from heights, for example. The elderly, who often have osteoporosis or age-related thinning of the bone, often sustain these serious fractures from simpler falls.
"In the fall, I had also sustained three broken ribs. I was in a sad state after surgery," Lestina says. "Using my upper body to move myself was very painful, yet I could not put any weight on my leg."
After surgery, patients are typically kept from bearing weight for about 8-10 weeks, depending on how the fracture is healing and thereafter gradually put weight on the knee. Overall recovery is lengthy and will occur in stages over a 12-month span.
"I explain the length of the recovery from Day 1 so expectations are set early, probably the most important thing I can do," Dr. Caronis says. "Rather than focus on non-weight bearing initially, I steer them towards the stages of recovery of motion and strength."
Lestina shares that it was difficult to have a long recovery time, even knowing at the onset that return to function would take a while. Now, 18 months later, he still refers to which leg is his good leg or bad leg. But he has had constant support from Dr. Caronis and his clinical team, plus an online support group.
"About a year into my rehab, I was getting frustrated by my progress and thought it was just me. But I found online support through the Tibial Plateau Fracture Recovery Facebook support group and realized I was not alone and was actually fortunate, as there are many more severe degrees of tibial plateau fractures," Lestina says.
One member of the recovery support group shared that they had open heart surgery with a recovery time of only nine months, but with a tibial plateau fracture, it was two years. Lestina adds that having people who have shared common surgeries helped with combating frustration and depression. Everyone shares stories of how they were injured and helpful hints to recover. It is also common to share the often-startling X-rays of their injuries both pre- and post-orthopedic hardware.
Since his surgery, Lestina has been able to walk and bike in Arizona and Alaska this past summer and just got back from hiking around Europe this fall. He continues to pursue his passion for orchestral conducting.
"I have no limits, but you never forget that you had a tibial plateau injury!" he says.
Have hip or knee pain? Take our quick online health risk assessment to see if you should go see an orthopedist.
Related Posts
Comments
About the Author
Jennifer Benson, health enews contributor, is coordinator of public affairs for Advocate Aurora Health. She has 10+ years of community development and communication experience for non-profits and has a BA in Architecture from Judson University in Elgin, IL. Outside of work, you can find her planning the next adventure near water or rocks, re-organizing spaces, working on her Master's in Public Health, caring for her senior citizen cat, keeping to healthy moving and eating disciplines and growing green things wherever she can find room.