How comfort food makes you uncomfortable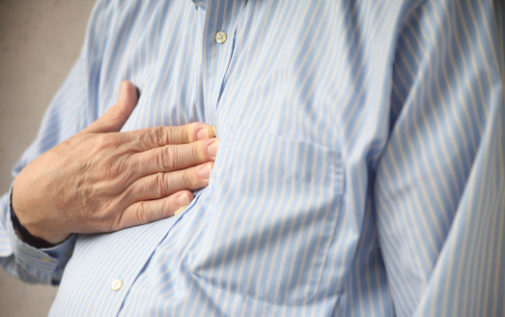 When food doesn't agree with us, it can cause discomfort and even potentially serious health complications.
According to the American College of Gastroenterology, at least 15 million Americans experience heartburn every day. That was the reality for Mark Lieske, a real estate investor and volunteer firefighter from Grafton, Wis. Mark has gastroesophageal reflux disease, commonly referred to as GERD. It's a condition where stomach acid persistently and regularly flows up into the esophagus, causing heartburn and other symptoms.
"Whatever I ate gave me severe acid reflux," he says.
It wasn't just spicy foods that set it off for Mark. Almost anything he ate caused severe heartburn and chest pain. Mark saw his family doctor who prescribed medication. The symptoms of GERD can often be successfully treated with medication, but it doesn't fix the cause. And with medication, there are side effects. For Mark, it was weight gain and fatigue.
For years, Mark and his doctor increased the medication dose as his symptoms worsened. Also increasing were the side effects. As Mark became more fatigued, he gained more weight.
"It got to be where I was tired all the time," he says. "I was exhausted."
After 18 years and more than 90 pounds, Mark reached a breaking point when he was struggling to breathe during his work as a volunteer firefighter. Mark thought the weight of the gear and the weight he had gained was causing his issues, but he saw his doctor and found that complications from GERD were putting pressure on his stomach and chest, making it difficult for him to breathe.
Mark was referred to Dr. Vasanth Siddalingaiah, a gastroenterologist at Aurora Health Care in Grafton.
"I heard Dr. Siddalingaiah was an excellent surgeon, so when he recommended a surgical procedure called TIF, I did my homework," Mark says. "There are other procedures out there, but I felt the TIF procedure was the best option for me as the side effects are minimal."
"Surgical procedures have been used to effectively treat patients with GERD for over 50 years," Dr. Siddalingaiah says. "The transoral incisionless fundoplication (TIF) procedure uses the stomach tissue to form a valve that blocks the stomach acid from flowing up into the esophagus. The procedure is different because it is minimally invasive, performed through the mouth rather than through laparoscopy or open abdominal incisions." This means a faster recovery for the patient.
"I'm a different person," Mark says. "My breathing has improved dramatically, and I have so much more energy."
He is losing weight and is back to feeling like he did years ago.
"It is hard to explain how much this procedure has helped me," Mark says. "The outcome has been amazing, and I have a whole new lease on life."
Related Posts
Comments
About the Author
Carla Basiliere, health enews contributor, is a seasoned communications professional with over 15 years of experience in the health care industry. Carla has a BS degree in Mass Communications from the University of Minnesota Mankato. In her free time, Carla enjoys spending time outdoors with family and friends.