How a routine physical saved this man's life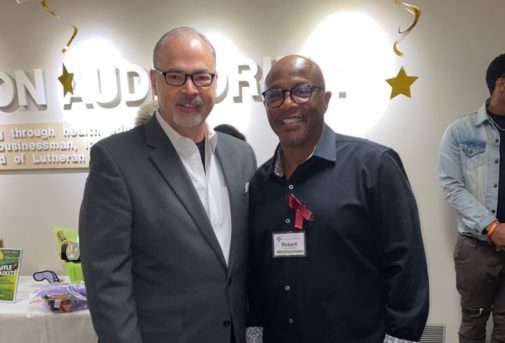 Robert Banks routinely scheduled his yearly physical exam, which may have played an integral role in saving his life.
In January 2016, following his exam and blood test, his primary care physician noticed there was an increase of protein in his blood. An average person has 2-3% of protein in their blood, but Robert had 7%, which, in the absence of any other symptoms, was an indication of smoldering multiple myeloma.
Smoldering myeloma is a precancerous form of myeloma, a cancer that forms in a type of white blood cell called a plasma cell.
"My doctor told me that if the protein was at 20%, we would start chemotherapy right away," says Robert. "At that point, we monitored my condition with a blood test every three to four months. In January 2019, I was diagnosed with multiple myeloma, and my oncologist thought I was a good candidate for a bone marrow transplant."
Robert was referred to Dr. Tulio Rodriguez, director of the bone marrow transplant program at Advocate Lutheran General Hospital in Park Ridge, Ill., and he began chemotherapy in April 2019 for 12 weeks.
"Most patients who are diagnosed with multiple myeloma have additional symptoms, but Robert had only mild fatigue besides his increased protein in the blood and an abnormal proliferation of plasma cells in his bone marrow," says Dr. Rodriguez. "Robert was one of the strongest and most determined patients I have treated, which was a big part of his fast recovery."
Robert underwent a bone marrow transplant in August 2019, and two weeks after his return home, he was back in the gym full time. Despite the hardship and pain while undergoing the bone marrow transplant, Robert was determined to get back to his routine and parenting his teenage daughter.
"Multiple myeloma is not considered 'curable,' but it is a treatable disease which allows patients to live a fulfilling life for 10+ years with current therapies," says Dr. Rodriguez. "An exact cause of multiple myeloma is not known at this time but, while it could affect individuals at any age and of all ethnicities, it is more common in people older than 60 years and in African Americans."
Common symptoms include:
Fatigue or weakness
Anemia
Bone pain frequently involving the back and long bones
Bone fractures
Kidney damage
Frequent infections
Weight loss
Clots
"Treatment depends on how advanced the disease is and what the symptoms are," says Dr. Rodriguez. "Treatment options include chemotherapy, stem cell transplantation, radiation or targeted therapy and sometimes it's a combination of two or more modalities."
Robert is celebrating his 60th birthday among family and friends with the theme "Super Bob" because of his super powers that enabled him to overcome cancer.
Related Posts
Comments
About the Author
Neda Veselinovic, health enews contributor, is a public affairs coordinator at Advocate Lutheran General Hospital. She has more than five years of public relations experience and most recently worked with clients in the travel and hospitality industries. She prefers to spend her time with a cup of coffee and a good read and always welcomes book recommendations.