My Super Cooper: 'His heart stopped beating for three minutes'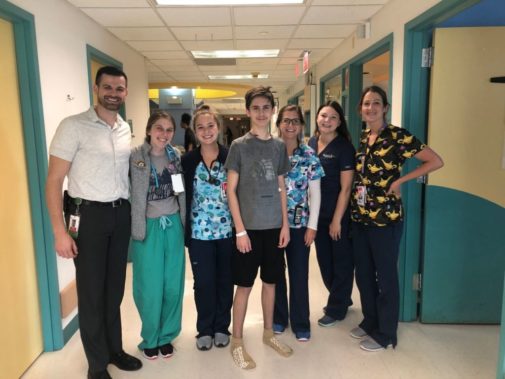 After a day of playing video games and being a typical 15-year-old, my son Cooper came down with a stomach ache and started vomiting. As the pain got worse, he became pale and we knew something didn't seem right, so we decided to take him to the emergency department.
Not even 20 minutes after we arrived to Advocate Children's Hospital, Cooper said he felt like he was going to pass out. He looked right at us as his face turned white, followed by the ringing on the alarm monitors and every stat dropping to zero. He went into cardiac arrest and his heart stopped beating for three minutes.
I stood helplessly, screaming as my son's body went limp. As they tried to resuscitate him, they knew he would need to be intubated. Unfortunately, he vomited and aspirated into his lungs as they collapsed and filled with fluid.
Shortly after resuscitation, a scan would reveal that Cooper had gone into septic shock from an infected appendix, something we were unaware of and unable to recognize, given the seemingly ordinary nature of the symptoms that came so quickly. I am so glad we listened to our gut and took him in.
He was quickly rushed to surgery, but he coded yet again. The surgeon was able to remove his appendix but could not close the incision because he was so critically ill. Cooper was placed in the pediatric intensive care unit (PICU) and put on ECMO (Extracorporeal Membrane Oxygenation) life support and a ventilator. We were told he was in critical condition, but the team will fight like heck to save him.
His physician, Dr. Sofia Padilla, had recently implemented a few new initiatives. Among them, limited sedation and early mobility, which, to Cooper's dismay, got him alert, up and moving around the hospital and, eventually, back home in just under two weeks.
Because Cooper recalls nearly all of the trauma from this event, once he was alert enough, he took to a clipboard to communicate.
The first thing he wrote? "Thank you" to his nurses.
Friends and family stormed the heavens with prayers from all over the world. The amazing PICU doctors and nurses worked relentlessly to bring our Cooper back to us. Their hard work, all the prayers and Cooper's indomitable spirit paid off.
Despite some physical and emotional setbacks during the healing process, Super Cooper made it to his first day of sophomore year in August, celebrated his 16th birthday shortly after and even got his driver's license. My son is an amazing, sweet, caring rockstar.
To the emergency department and PICU teams, I am humbled and forever in your debt.
Related Posts
Comments
About the Author
Heather Walters, of Palos Hills, is a cancer survivor, wife and mother to teenagers Cooper and Bella.