How one patient says dieting is just like marriage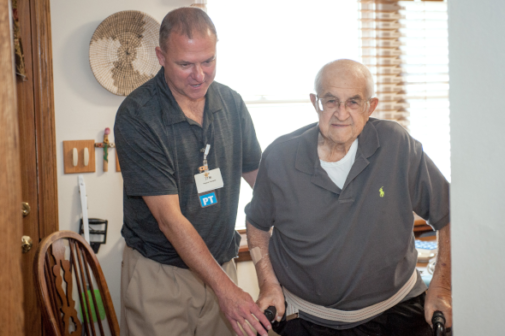 At 85 years old, Tony Frittitta copes daily with symptoms of hypertension and painful lymphedema. But his humor is still intact.
"Dieting is just like marriage; it takes a lot of work," he jokes.
Frittitta is in good spirits because he's lost nearly 80 pounds due to the care of his Aurora Health at Home nurse, an innovative telemonitoring program and the healthy cooking of his lovely wife, Audrey. He jokes about the effort, but in 2018, Tony was morbidly obese, and the swelling in his legs from lymphedema landed him in the emergency department. It was very serious.
When he was sent home from the hospital, Aurora Health at Home armed Tony with a team of resources to care for him from the comfort of his own home. Registered nurse Dana Monreal, his Aurora Health at Home nurse, provides checkups at his house and has helped teach him healthier ways to prepare their food.
"He still loves his Italian, but he doesn't eat it as often," Monreal says. "It's a lot of educating. But to get better, it's up to him. He has a good attitude about it."
Monreal also equipped Frittitta with telemonitoring equipment totally free of charge, thanks to philanthropic support from the Advocate Aurora Post Acute Division. The equipment enables him to monitor his condition from home and saves him regular trips to the doctor.
"His daily vitals are sent to a telemonitoring station, and nurses see everything that comes through," Monreal says. "If something is off, they call me or his doctor. His blood pressure meds were updated because of the telemonitors. It's like he sees a nurse every day."
Tony is grateful for not only the equipment, but Dana's encouragement.
"First thing I do when I get out of bed is take my blood pressure and get on the scale," he says. "I have all the faith in the world in this program and my nurse. I'd rate her a 5 star."
He is almost at his goal weight of 200 lbs, and his blood pressure continues to drop. Though the weight loss has been Tony's focus, the overall impact on his health is his greatest reward.
"The secret is this: no salt," Frittitta says. "Audrey buys fresh vegetables as much as she can and meat that's not processed. I feel better because I'm able to move better."
That's all the reward his "5 star" nurse needs.
"I've gotten really close to them, I feel like part of the family. I'm just happy that he's happy with himself," Monreal says.
Related Posts
Comments
About the Author
Tami Hughes is a public affairs coordinator for Advocate Aurora Health. She attended college at the University of Miami and loves watching her Hurricanes play just about anything. She enjoys cooking and going to concerts with her husband. Her heart is made happy by her children, Neenah and Jack, and her dog child, Rizzo.