Emotional bell ringing signals new chapter for prostate cancer survivor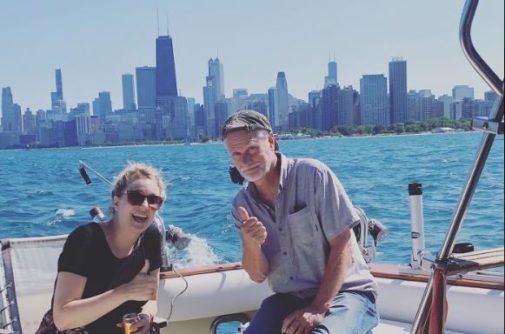 When it comes to your health, surprises often aren't good. A shocking diagnosis can feel like a train speeding toward you out of thin air.
Rick Gaber's experience was a little different.
"Starting as early as 2004, I had elevated PSA levels," Gaber says. Prostate-specific antigen, also known as PSA, is a protein produced by the prostate. Men can undergo a blood test to measure PSA levels, which can signal signs of cancer if the PSA level is too high.
"And every single year, that PSA level went higher and higher," he says.
As Gaber's levels gradually elevated over the years, he was carefully monitored by his primary care physician and his urologist. Then in fall of 2018, his screening blood test showed PSA levels that were very high. That's a red flag that he may have prostate cancer, so he had a series of tests.
Gaber's physicians delivered the news: He had prostate cancer.
"Knowing genetics like I do, my own cancer diagnosis came as no surprise," Gaber says.
That's because Gaber, a professor of genetics at Northwestern University, knows a thing or two about the science of genetics and the power of knowing your family history. While two of his uncles and a brother have survived prostate cancer, he lost his father, his grandfather and one of his uncles to the disease.
After speaking with his physician, Gaber had planned to undergo a prostatectomy. Before that, he sought out a second opinion at the urging of his daughter. That's when he met Dr. Santosh Yajnik, a radiation oncologist at Advocate Illinois Masonic Medical Center in Chicago. From that first meeting, Gaber had a change of heart.
"I remember I had a delightfully detailed talk with Dr. Yajnik, who gives you all the time in the world with the best face-to-face interaction. He was very patient and explained everything, and that's when it occurred to me that perhaps his recommendation was the way to go," Gaber says.
Dr. Yajnik recommended a powerful course of hormone therapy to slow the growth of the cancer and high dose rate brachytherapy boost combined with external beam radiation therapy to destroy cancer cells in the prostate.
Then, a scary development occurred in Gaber's case: His PSA levels had more than doubled. A bone scan also revealed a suspicious spot on Gaber's hip, a potential sign that the cancer was spreading.
"This was a very worrisome time for both me and my family.  Their love and support (and humor) kept my spirits up and my attitude positive," says Gaber.
A series of additional tests revealed the suspicious spot was not related to Gaber's prostate cancer, so he and Dr. Yajnik worked quickly to schedule the treatments, which started in January.
Then, on February 5, with his daughter and Dr. Yajnik next to him, Rick marked the momentous occasion with a bell ringing ceremony on his 68th birthday. With one final brachytherapy treatment scheduled the following day, Gaber has closed this chapter of his cancer journey.
The end of cancer treatment on one's birthday is cause for celebration, but Gaber now has bigger plans to look forward to: He will also welcome his first grandchild in a couple weeks.
"It's tough to hear you have cancer, even when you have anticipated the news for quite some time. I have to say, though, the treatment and personal care I received from every one of the folks at the cancer center at Advocate Illinois Masonic have made all the difference. Their sincerity and professionalism were simply remarkable," Gaber says.
Dr. Yajnik adds that in addition to leading a healthy lifestyle including a well-balanced diet and regular exercise, it is important for men to know about their risk factors and screening options.
"The decision to undergo prostate cancer screening is a very personal and complicated one. Men are encouraged to speak with their primary care providers about the potential benefits, risks and uncertainties of screening for prostate cancer," he says.
Related Posts
Comments
About the Author
Jaimie Oh, health enews contributor, is regional manager of public affairs and marketing at Advocate Health Care. She earned her Bachelor's Degree in Journalism from the University of Missouri-Columbia and has nearly a decade of experience working in publishing, strategic communications and marketing. Outside of work, Jaimie trains for marathons with the goal of running 50 races before she turns 50 years old.