Advice for teens and social distancing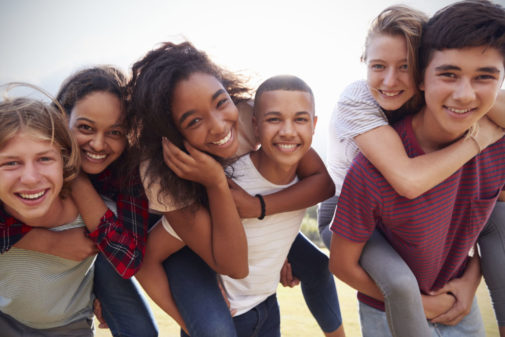 Many parents are looking for advice about teens and social distancing from our perspective as pediatricians, moms and public health specialists.
This is an evolving situation, and our current recommendations are based on the best information we have available today.
First and foremost, as a community, we need to be on the same page about social contact—especially with school out. There is no point in closing schools and then allowing kids to hang out in big groups or not take basic precautions. If we want school and sports to resume and have prom and graduation, it's best to overreact instead of underreact, as we are learning from Italy and New York. Once testing for the virus is more widely available, we will have better guidance.
COVID-19 is a respiratory virus that might cause no symptoms in some people, fever and cold like symptoms in others, and more rarely, problems with breathing that could result in need of supplemental oxygen or ventilation support. The more dangerous outcomes appear to occur in older people and in people with underlying medical conditions.  Until testing becomes more widely available, we don't know how prevalent this disease is in our community, or true complication or death rates. We do know that if you test positive for another virus like influenza, there is a lower chance you also have COVID-19.
There are multiple hospitalized COVID-19 patients in our community, and we know COVID-19 is very contagious—more contagious than the seasonal flu. It is spread person-to-person within six feet of contact with each other and through respiratory droplets. We are taking extraordinary measures to contain the virus. We want to protect our more vulnerable populations and not overwhelm our health care system. We all know people in medically vulnerable populations. They are our parents, grandparents and even classmates.
So what do current national and local recommendations mean for all of the students (including college) who are home and restless? Here are suggested practices to share with your kids:
Wash your hands when you come in the house, before you eat and after using the restroom. Use good, old-fashioned soap and hot water and save hand sanitizer for when a sink is not available.
Wipe down high-touch surfaces (door knobs, key boards, phone screens) with a disinfectant.
No sharing of utensils, plates or cups.
We do not recommend gatherings for remote learning.
Those who live in homes with higher risk populations such as grandparents or people with underlying health issues may not want to have any visitors at this time. This also applies to houses with health care providers; they need to take extra precautions to keep themselves healthy so they can be available to take care of others.
If you want to hang out with friends, do it outside and with social distancing. Being outside is great for your mental health. Playing sports can happen with social distancing – soccer, golf, baseball, throwing a lacrosse ball and tennis are probably fine with good hand hygiene (wash hands or use hand sanitizer before start of play and after.) Walking, biking and skateboarding with friends is safe. Avoid games with close contact such as tackle football or wrestling. For basketball, play a game like horse or knock out and having people bring their own balls.
Avoid gatherings where you can't practice social distancing. This includes cars and stores. Sadly, we need to hold off on parties or sleep-overs. If anyone in your home tests positive, regardless of severity of symptoms, the entire household will be under quarantine. Who wants that?
If you get symptoms or feel ill, stay home and away from others for at least a couple of days after symptoms resolve. Testing availability and guidelines are changing rapidly, so if you are sick and have any questions, please call your health care provider or check for updates on cdc.gov.
Take care of your mental health. You still need to sleep 8-10 hours a night, eat three nutritious meals a day, turn off screens, get outside and move an hour a day or more, use tools to decrease stress such as meditating, petting a dog or listening to music and connecting with our support people. If you are seeing a mental health provider, try to continue visits by phone or video chat.
Emphasize to your children that while no one is at zero risk for being sick from COVID-19 virus, their age cohort is low risk for getting very sick. Reassure them that we will all get through this together and that your job is to help keep them safe.
Teens wonder, "Why should I not see my friends when it is unlikely this disease will make me sick?" The idea of personal sacrifice to ensure everyone stays healthy may be a new concept for them to consider. They can understand and be motivated by the fact that their individual actions have the power to save lives.
Bottom line: If we all stick together and practice good hand hygiene and social distancing, we can stem the spread of coronavirus quickly and get back to doing the things we love.
Dr. Lynn Chehab and Dr. Aimee Crow are pediatricians with the Chicagoland Children's Health Alliance, a partnership between Advocate and NorthShore University HealthSystem.
Related Posts
Comments
About the Author
Dr. Lynn Chehab and Dr. Aimee Crow are pediatricians with the Chicagoland Children's Health Alliance, a partnership between Advocate and NorthShore University HealthSystem.