Need emergency medical help? This is why one patient felt safe at the hospital.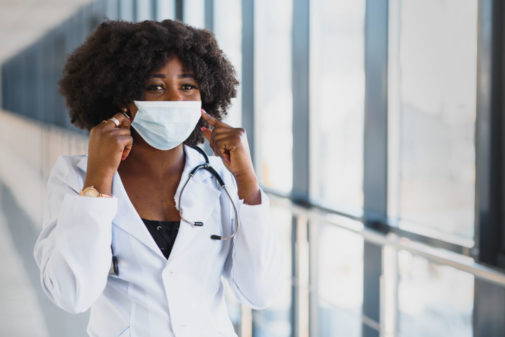 Worried they'll expose themselves to COVID-19, Americans have been avoiding hospital emergency rooms – often with disastrous results.
ER visits declined 42% during the first few weeks of the pandemic, according to a new report from the Centers for Disease Control and Prevention. But delaying care will lead to a surge in hospitalizations later, unnecessarily putting lives at risk, according to the American Medical Association and other experts.
"We understand patients are concerned about COVID-19 but we have implemented a number of safeguards to keep you safe when you come to the emergency department," said Dr. John Piotrowski, chairman of emergency medicine at Advocate Condell Medical Center. "If you're experiencing an emergency, please don't think twice about coming here for care."
Clara Arbiser didn't hesitate to seek care at Condell's emergency room when she suffered a painful dislocated right hip in mid-May during the COVID-19 pandemic.
Upon entering the hospital, the 77-year-old Mundelein resident immediately was given a mask to wear and noticed that everyone around her also were wearing masks. That made her feel safe, she said.
Universal masking is one of the tenets of Advocate Aurora Health's Safe Care Promise, which also includes:
Virtual check-in: Using digital devices to check in provides seamless, low-contact arrivals.
Social distancing: Our rearranged waiting areas and staggered appointment times reduce traffic and create safe spaces.
Enhanced cleaning: We've enhanced cleaning in all areas, including additional disinfectant for high-touch spaces
Recovering at home and undergoing physical therapy, Arbiser is so grateful for the care she received that she posted a positive testimonial on her LinkedIn account to give kudos to the responding paramedics and emergency department team.
"You are an incredible group of compassionate professionals and I celebrate you," she wrote.
Related Posts
Comments
About the Author
Lisa Parro, health enews contributor, is a content manager for Advocate Health Care and Aurora Health Care. A former journalist, Lisa has been in health care public relations since 2008 and has a master's degree in journalism from Northwestern University. She and her family live in Chicago's western suburbs.