You don't need to delay surgery anymore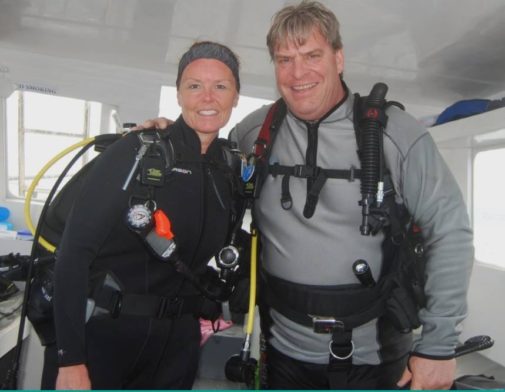 Anxiety-provoking under normal circumstances, having surgery is compounded by the current COVID-19 pandemic.  After several weeks of restrictive stay-at-home orders during which elective (non-urgent) surgical procedures were postponed at all Illinois hospitals, limitations were recently lifted and enhanced safety protocols put in place to limit patient exposure to coronavirus.
Orthopedic surgery patient Mark Hobson put his anxiety aside to undergo one of the first elective cases performed at Advocate Condell Medical Center in early May – two months after his foot surgery originally was scheduled to take place.  Now recovering at home in Libertyville, Hobson said the precautions put in place at the hospital made him feel he'd be cared for safely.
"Everyone was positive, professional and reassuring," said Hobson, who previously worked in the hospital's public safety department and who is currently employed in law enforcement.
All Advocate Aurora Health sites are taking extra steps to ensure safe care. Known as the Safe Care Promise, these steps include:
Universal masking: Everyone who enters our locations wears a mask. If you don't have one, we'll gladly provide it.
Virtual check-in: Using digital devices to check in provides seamless, low-contact arrivals.
Screening: Everyone goes through a COVID-19 screening before entering our locations.
Social distancing: Our rearranged waiting areas and staggered appointment times reduce traffic and create safe spaces.
Enhanced cleaning: We've enhanced cleaning in all areas, including additional disinfectant for high-touch spaces
"We understand patients are fearful of COVID-19, so we established these comprehensive safety protocols and procedures to specifically address the unique transmission mechanisms of the virus," said Hobson's orthopedic surgeon, Dr. Gregory Caronis, chief of surgery at Condell.
Like all other surgery patients, Hobson was required to undergo a COVID-19 test before his procedure. It took place in a drive-through facility in the parking lot of the Advocate Condell Centre Club.
"I have to admit I was apprehensive, given what I had been seeing on television," he said. "But the test took only about 10 seconds with the nurse talking me through the procedure and I made sure to follow the self-quarantine instructions for the 48 hours between my test and date of surgery."
On the day of surgery, Hobson's wife dropped him off at the front entrance of the hospital due to visitor restrictions.  He was welcomed by a team member who sanitized his hands, provided a clean mask and escorted him to the surgical area.
In the operating room, Dr. Caronis performed surgery to fix a fracture in one of the long bones of Hobson's foot – an injury that's notoriously difficult to heal due to marginal blood supply to the area. The procedure went smoothly and Hobson was discharged later that day.
At home, he used the LiveWell mobile app to manage his post-op care. The mobile app allows anyone to manage their health and wellness in one place by connecting with doctors, starting video visits, getting test results and other convenient functions.
"I found it exceptionally helpful to be able to communicate quickly with my surgeon with concerns about my surgical wound without making a phone call," Hobson said.
Nearly a month after his procedure, Hobson is anxious to be fully recovered, as he and his wife are planning a scuba-diving trip.  When asked what advice he would provide to those contemplating elective surgery, Hobson had the following advice: "Choose a well-respected surgeon you trust and do your research – ask about what COVID-19 safety procedures the hospital has in place."
Related Posts
Comments
About the Author
Lisa Parro, health enews contributor, is manager of content strategy for Advocate Aurora Health. A former journalist, Lisa has been in health care public relations since 2008 and has a master's degree in journalism from Northwestern University. She and her family live in Chicago's western suburbs.