Cancer survivor urges others to maintain regular check-ups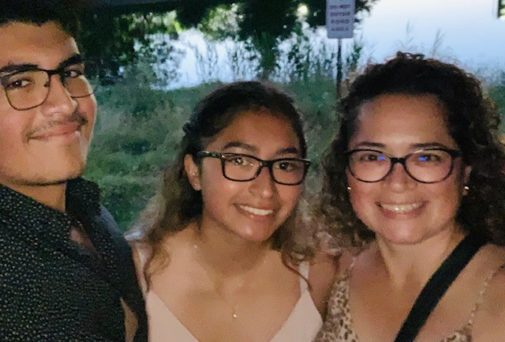 Edna Mercado remembers reading about the devastation that COVID-19 brought in Italy. Her daughter was planning to travel to the country as part of her senior class trip in the spring. At the time, tensions were running high here in the United States, as the number of COVID cases began to skyrocket and states issued stay-at-home orders. That senior class trip was eventually canceled, signaling to Edna that this was just the beginning of the crisis.
Amid the growing sadness and fear Edna recalls seeing on the news, she was grappling with another scary piece of news. Following an appointment with her primary care physician, Edna was referred to Dr. Abraham Shashoua, an urogynecologist, as well as Dr. Ismail Mert, a gynecologic oncologist, to assess suspicious symptoms. They would later reveal she had cervical cancer.
During a time when many people were delaying medical attention due to COVID, Edna was determined not to let the fear of the  coronavirus stop her from getting the lifesaving care she needed.
"I had heard of people who were delaying their care or not seeing their doctor," Edna says. "But once I got my diagnosis, I knew that delaying my treatment would have definite consequences to my health. I was afraid of COVID but knew that there were precautions that I and the hospital could take."
Though Dr. Shashoua performed a LOOP procedure to remove cancer cells, further specialty care was needed to stop the cancer from spreading. That's when Dr. Mert worked with Edna to go over her options.
"COVID has caused understandable fear and anxiety, but the virus should not be a reason for any woman to stop their well woman appointments. This includes regular check-ups and screenings for cervical cancer," says Dr. Ismail Mert, a gynecologic oncologist at Advocate Illinois Masonic Medical Center. "In Edna's case, her story had a good outcome because she scheduled her regular cervical cancer screening, which allowed us to catch her cancer in its earliest stages. I recommend all women keep in close contact with their gynecologists to undergo their regular screenings, including pap smears and HPV tests."
Throughout the process, Edna remembers not just the expertise of these physicians but the team's kindness and comforting demeanor.
"I immediately felt at ease with Dr. Shashoua and Dr. Mert because I could tell they were a team and that they worked closely together to take care of patients. I also noticed that the staff at Advocate Illinois Masonic took many measures to ensure safety, including the entrance screenings and constant disinfection. But the other thing that really eased my anxiety was everyone's kindness, which meant everything to me during a time when I couldn't have my husband or another family member with me at the hospital," Edna says.
Advocate Aurora Health's Safe Care Promise guarantees additional measures beyond standard precautions to ensure safety during the COVID pandemic, including screening for every patient and visitor, universal masking, social distancing and enhanced cleaning.
Edna underwent surgical treatment for cervical cancer and, during recovery, celebrated the high school and college graduation of her two kids. Fully recognizing we are not out of woods with COVID, Edna is looking forward to spending time with her family and continuing their daily walks, which have been crucial to her emotional and physical healing process.
"It has been a tremendously unprecedented 2020 so far, but I still feel fortunate and blessed to have my health. My message for others is that, while COVID is scary, leaving an undiagnosed condition untreated due to fear of going to a hospital or doctor's office is even scarier. When it comes to our health, we have to take care of ourselves. If I hadn't gone for my regular check-up, I don't think I would be here telling the same story," Edna says.
Related Posts
Comments
About the Author
Jaimie Oh, health enews contributor, is regional manager of public affairs and marketing at Advocate Health Care. She earned her Bachelor's Degree in Journalism from the University of Missouri-Columbia and has nearly a decade of experience working in publishing, strategic communications and marketing. Outside of work, Jaimie trains for marathons with the goal of running 50 races before she turns 50 years old.