Health Care Heroes: Keeping the faith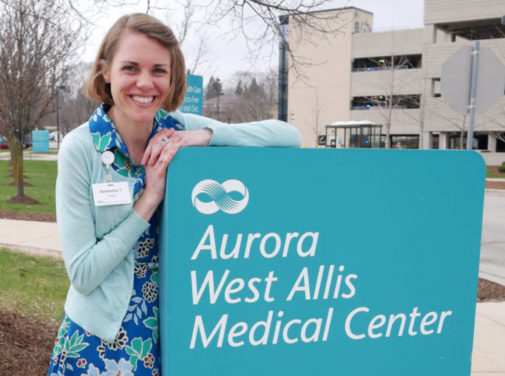 Every day, Chaplain Sam Thurner tries to carve out some time to go for a short walk. Even though she's never been more tired, these reflective steps help her recharge and share her strength with others.
More than ever, health care is a place where emotional and spiritual strength is greatly needed. It helps patients and caregivers overcome obstacles and get through difficult times.
This effect of COVID-19 is not always visible to the outside world. For Thurner, the constant change and the endless unknowns have presented her with new challenges on a daily basis.
"We are grieving life the way it was while caring for those who have COVID-19 and other illnesses," said Thurner. "Spiritual and emotional health is one area we can look to for grounding during this intense time."
As a chaplain for more than 10 years, and the last three with Aurora, the global pandemic has inspired Thurner to get creative. At Aurora West Allis Medical Center, she collected cards and homemade signs from kids and posted them in respite rooms so team members felt appreciated and valued. She's also used technology to connect COVID-19 patients with loved ones via Zoom, including during end-of-life situations.
"Initially, I thought it was impersonal having end of life prayers over a screen. But then, I began thinking that it is actually more personal. Everyone is face to face, there are no masks, no shields. The family can all be present, no matter where they live," said Thurner. "Though I can't change the outcome, I can impact how the family feels valued, heard, respected, and loved."
Thurner and her fellow team members continue to support one another as work life recalibrates to the new normal. The shared resiliency, along with her faith, gives her a positive outlook as the battle against COVID-19 continues.
"I am hopeful that we can continue to work together as a hospital system and community to care for as many people as we can," said Thurner.
Related Posts
Comments
About the Author
Matt Queen, health enews contributor, is a communication coordinator at Aurora Health Care in Milwaukee. He is a former TV sports anchor and journalist with extensive public relations experience across the health care spectrum. Outside of work, Matt enjoys watching sports (of course), cooking, gardening, golfing and spending time with his wife and two young children.