Will a mask help during flu season?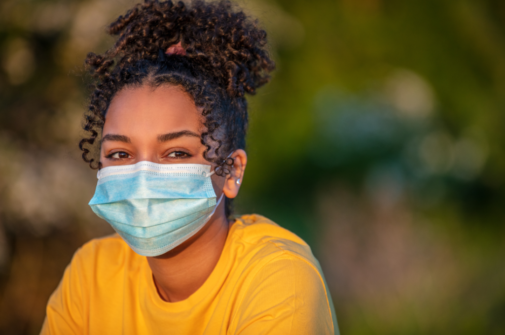 Wearing a face mask can protect those around you from contracting COVID-19. But, can it also prevent the spread of other respiratory illnesses like the flu?
"Influenza is spread similarly to COVID-19, so wearing a mask during flu season, or whenever we have cold-like symptoms, is recommended," says Dr. Kevin Koo, family medicine physician at Advocate Lutheran General Hospital in Park Ridge, IL. "This current pandemic has changed how we view our prevention of all respiratory diseases, of which influenza is a potentially deadly one."
How do you properly wear a face mask?
There are a variety of face masks and cloth face coverings that can help limit the spread of influenza and COVID when you're in close contact with others.
A cloth mask doesn't offer the same level of protection as a surgical mask, but if they are worn properly and by the public at large, they can still help reduce the spread of respiratory illnesses.
When wearing a mask, make sure to place the mask firmly over your nose, mouth and chin. Avoid touching the mask unless you must take it off. When removing, use the string attachments placed on your ears. When you're done using a mask, throw it away and avoid reusing the same one. For cloth masks, wash after every use.
Prevention remains the best method of staying health and keeping yourself safe from contracting COVID-19 or influenza, which is why masks are essential.
"Most importantly, the rates of influenza are much lower when paired with proper hand hygiene," says Dr. Koo. "That includes hand washing for at least 20 seconds or using a hand sanitizer with at least 60% alcohol."
Related Posts
Comments
About the Author
Neda Veselinovic, health enews contributor, is a public affairs coordinator at Advocate Lutheran General Hospital. She has more than five years of public relations experience and most recently worked with clients in the travel and hospitality industries. She prefers to spend her time with a cup of coffee and a good read and always welcomes book recommendations.