Watching your budget? You can still eat healthy.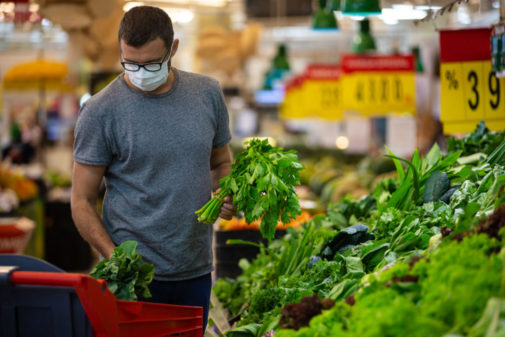 As Americans grapple with their financial security in the face of the COVID-19 global pandemic, questions on how to eat healthily on a budget have become more prevalent than ever.
"It's definitely something a lot of people are thinking about," says Karli Burridge, a physician assistant and nationally recognized expert in the field of obesity and weight management at Advocate Good Samaritan Hospital. "While we are all navigating uncertain times, the good news is that there are tips and tricks to shopping and preparing meals on a budget without compromising our families' health."
First and foremost, it's important to understand the definition of a "well-balanced diet," which can take on a different meaning depending on your personal health status. Currently, over 70% of US adults are affected by overweight or obesity, according to the Centers for the Disease Control. That can mean chronic health conditions.
"If you have a chronic condition, like obesity, diabetes or heart disease, the definition of a well-balanced diet can look different to you," Burridge says. "However, a general guideline for the most Americans is that their nutrition should emphasize non-starchy vegetables and fresh produce, with protein and healthy fats such as avocados and olive oil to round out the diet."
Burridge also emphasizes that there is no "one-size-fits-all" when it comes to nutrition and that since individuals respond differently to different types of nutrition plans, people need to find what works for them personally. That being said, she notes that almost everyone will benefit from eating more "whole foods" that come from nature and less processed foods made in factories.
Our financial situations are as diverse as our health statuses, but there is no need to compromise on the quality of your meals in order to stretch your dollar. Whether you have always been budget-conscious or if you are tightening your budget in the face of future uncertainties, Burridge offers a few practical tips to help you maintain a healthy budget and diet.
Meal prep for the week. Planning all your meals for the week is a worthy time investment that helps you visualize where every dollar is going. "Before you head to the grocery store, create a menu of easy but healthy meals that your whole family can enjoy for the week. Invite your family to be part of the process. Once you have a meal plan for the week, it's easy to build a grocery list from there," Burridge says. With your grocery list in hand, too, you eliminate the risk of shopping mindlessly, which can make us all prone to putting unhealthy processed foods in our shopping carts.
Know how long your fresh produce lasts. Fresh fruits and vegetables are one of the most nutritionally dense items you can buy from the grocery store, but they all come with different shelf lives. If you're committed to building most of your meals with fruits and vegetables, it'll help to know how long these food choices last so that you're minimizing waste. For instance, salad greens like lettuce and tomatoes typically last about a week. Zucchini, squash and bell peppers usually last a little over seven days. Carrots, broccoli, apples, and cabbage are hardier and can last up two or three weeks, and onions can safely sit in your fridge for longer than that.
Take a closer look in the frozen section. Frozen produce and proteins are a great way to stretch your budget. These items tend to be affordable options that also come in bulk. What's even better: frozen options don't skimp on nutritional value and are just as healthy for you as fresher options. And don't forget your freezer at home, either. Minimize waste by throwing in any leftover food or excess meals into the freezer.
Consider making your salad dressings. Many salad dressing options come with additives, like sugar. Try your hand at making your own homemade version, which tend to be healthier, cheaper and sometimes even tastier than store-bought versions. Burridge suggests add some olive or avocado oil into a glass jar along with your vinegar of choice, brown mustard and a squeeze of lemon or a touch of honey to make a basic but deliciously healthy salad dressing.
Don't overlook "undesirable" scraps. If you find yourself with scrap leftovers, particularly vegetable ends like broccoli or carrot stems, hang onto them! While these scraps typically end up in the trash, they can serve as the building blocks for soup stocks or other types of food. For soup broth, Burridge recommends keeping leftovers, such as roast chicken bones or vegetables scraps. These are the building blocks of making soup broth, which you can then build into a soup. If you have small amounts of produce leftover, you can also try slicing and roasting them into veggie chips or blending them into a vegetable mash.
Minimize stress/boredom eating. Burridge often advises her patients to come up with a list of 5-10 things they enjoy doing that they can do when they find themselves eating for reasons other than nutrition. Eating, especially when we eat sugary or starchy, processed foods, gives us a brief rush of feel-good hormones, but we can also get those by engaging in pleasurable activities, such as walking outside, listening to music, or finding a creative outlet.
"The key message here is that no one has to sacrifice nutrition in order to eat on a budget. I hope these tips show that you can stretch your dollar simply by shopping mindfully and minimizing waste," Burridge says.
Are you trying to watch your weight? Take a free online quiz to learn more about your healthy weight range.
Read more:
Related Posts
Comments
About the Author
Jaimie Oh, health enews contributor, is regional manager of public affairs and marketing at Advocate Health Care. She earned her Bachelor's Degree in Journalism from the University of Missouri-Columbia and has nearly a decade of experience working in publishing, strategic communications and marketing. Outside of work, Jaimie trains for marathons with the goal of running 50 races before she turns 50 years old.