Continuing an active lifestyle while living with breast cancer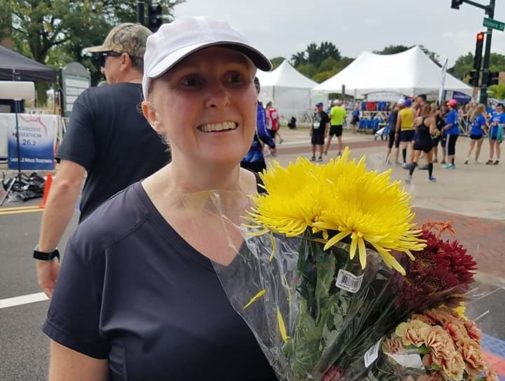 "What is the point of surviving if you are not living?"
That's a question asked by Mary Wilson, 40, who lives an active lifestyle despite her breast cancer diagnosis.
Before breast cancer, Wilson  would run an average of 30 miles a week, participate in a couple of half marathons per year and was learning how to sail. Last June, Wilson was diagnosed with advanced stage breast cancer after finding one initial lump in her breast while changing her clothes.
Wilson immediately went to her women's health doctor for a breast exam. Then, a diagnostic mammogram confirmed her suspicions and she was diagnosed with breast cancer.
"Terror was my initial reaction," said Wilson. "I thought I was going to die and leave my three children motherless.
Wilson worried that her breast cancer would metastasize the longer it took to start treatment. One of Wilson's family members recommended that she set up an appointment with Dr. Ameer Gomberawalla, a breast cancer surgeon at Advocate Christ Medical Center in Oak Lawn, IL.
Upon her first appointment, she was welcomed with "phenomenal bedside manners" as she expressed her worries to Dr. Gomberawalla. "He quelled my fears. He is amazing" said Wilson.
One month after her diagnosis, Wilson had a port inserted in her upper chest and received her first round of chemotherapy. Having a strong heart from running, a strong core from pilates and strong arms from sailing all played a big role in her physical and mental recovery during treatment. The day after Wilson's mastectomy, she was able to complete all the physical exercises she was supposed to be able to do after six weeks.
"If I did not have running and sailing throughout chemotherapy and breast cancer I would have fallen apart," said Wilson.
Dr. Gomberawalla's unique approach to breast cancer treatment includes molding each patient's treatment to their specific lifestyle. Wilson's treatment involved reverse node mapping which allows doctors to target lymph nodes in the arms and legs to avoid lymphedema.
The treatment allowed Wilson to have full strength in her arms and legs so she could continue her love of sailing her 15-foot sailboat in the gusty Lake Michigan winds. During chemotherapy, Wilson was able to receive her skipper license and now goes sailing once a week with her husband and their Sail Chicago friends.
"You already are losing so many parts of you, to lose running too? I fought to make sure that did not happen," said Wilson.
Reverse node mapping also made it possible for Wilson to continue her love of running. She is determined to never miss a Fox Valley Half-Marathon. She has participated 16 weeks pregnant, while she was breastfeeding her six-month-old and again during chemotherapy. Wilson's motivation to keep going during the half-marathon while undergoing chemotherapy treatment came from her supportive friends, especially her friend Christi who ran with her.
Wilson's best advice to those who have been recently diagnosed with breast cancer is to stay active and find one person to connect with and be your mentor.
"Find that one person who can guide you through the forest and be your go-to person," said Wilson.
When a neighbor found out about Wilson's diagnosis, she immediately connected her with a friend who previously battled the same kind of breast cancer. The friend acted as a mentor, a shoulder to cry on and someone to talk about what changes happen in the body during breast cancer.
Wilson looks forward to becoming a mentor herself and showing others impacted by breast cancer that you can continue to have an active lifestyle. On Sept. 13, Wilson ran her 10th Fox Valley Half-Marathon but this time as a cancer survivor.
Related Posts
Comments
About the Author
health enews staff is a group of experienced writers from our Advocate Aurora Health sites, which also includes freelance or intern writers.