Health care heroes: Fighting the flu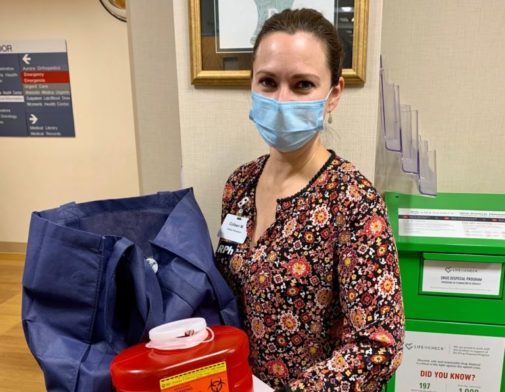 What people see is the needle. What people feel is a quick poke in their arm.
What many people who get their flu shots don't know is the planning and processes that makes these vitally important vaccinations possible.
While COVID-19 continues to test and strain all aspects of health care, there remains a great need to protect people from influenza.
Aurora Health Care is committed to keeping our community safe from the seasonal flu, making free flu shots available in several Milwaukee neighborhoods throughout October and during flu season.
This is when the Outpatient Pharmacy at Aurora Sinai Medical Center rolls up its sleeves. This team ensures that the vaccines and all the supplies are available at the clinics. At Sinai, they pack vaccines in coolers and stock needles, bandages, gloves, sharps containers, and of course masks, hand sanitizer and thermometers for COVID-19 screening at the clinics.
"We are thrilled to participate in this initiative," said Ashley Storvick, PharmD, MBA, pharmacy director for Ambulatory Services. "Our team feels they are really making an impact through these services and educating patients on the importance of flu vaccines during this unique health crisis."
This group of roughly 15 team members prepares the vaccines and supplies at Sinai, which are picked up several times a week by Aurora pharmacists from throughout Milwaukee who volunteer to work at the community clinics. The Outpatient Pharmacy Team will create at least 25 flu supply kits in October as our commitment continues throughout flu season.
"It's a heartwarming and proud feeling to have the pharmacists jump at the chance to work at the free clinics," said Storvick. "This team always amazes me and rises to any occasion."
Related Posts
Comments
About the Author
Matt Queen, health enews contributor, is a communication coordinator at Aurora Health Care in Milwaukee. He is a former TV sports anchor and journalist with extensive public relations experience across the health care spectrum. Outside of work, Matt enjoys watching sports (of course), cooking, gardening, golfing and spending time with his wife and two young children.