When other transplant centers shut down, they stepped up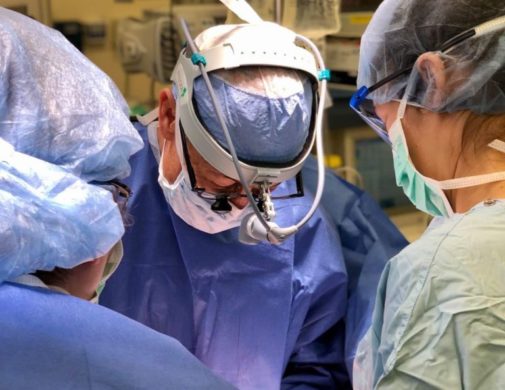 This year during COVID-19, while many transplant centers shut down during the pandemic, Aurora St. Luke's Medical Center stayed open, thanks to a rapid and effective response to the pandemic.
Screening, masking, enhanced cleaning and social distancing kept patients and team members safe. During the COVID-19 pandemic, Aurora St. Luke's has performed the most heart transplants of any center in the Midwest.
"Many of these patients had been waiting months if not years for a donor," said Dr. John Crouch, Surgical Director of the Heart Transplant Program at Aurora St. Luke's. "We felt that to shut down the program was not necessary if we did this carefully, but it also wasn't fair for our patients—especially our sicker patients."
For over 50 years, Aurora St. Luke's Medical Center has been a premier site for heart transplants, with better survival rates and higher volumes than most of the country. In 1968, Aurora St. Luke's performed the first heart transplant in the Midwest. On Nov. 28, doctors performed the 1000th heart transplant procedure at Aurora St. Luke's, the most of any hospital in the state and among the top 15 in the nation. Despite the number of transplants performed, each surgery is anything but common.
"Everyone now thinks transplantation is a common thing, but it really is a miracle. You take a heart out of a body for 4 hours or so and you're able to put it into another patient that doesn't have a heart that's working, and the new heart takes over," said Dr. Crouch. "It's like a miracle every time. It's remarkable really. You never really lose the awe of it."
Over the years, Aurora's expertise and personal care have resulted in better outcomes for patients than national averages.
"It's been a very challenging for us in transplant field but we're very glad to still be able to help people," said Dr. Nasir Sulemanjee, Medical Director of the Heart Transplant Program at Aurora St. Luke's. "It's a team effort and I can't even begin to mention the number of people who were involved to make this happen. This team and the organization didn't just face these challenges but overcame them."
This year, the heart transplant program has performed nearly 50 heart transplants and helped so many patients live longer, healthier lives.
Related Posts
Comments
About the Author
Ben Hoekstra is a public affairs coordinator with Advocate Aurora Health. He previously worked in marketing and PR for various Milwaukee nonprofits and received his master's degree in Corporate Communications from Marquette University. He enjoys the outdoors, cooking, and all things Milwaukee.