'It's OK to not be OK'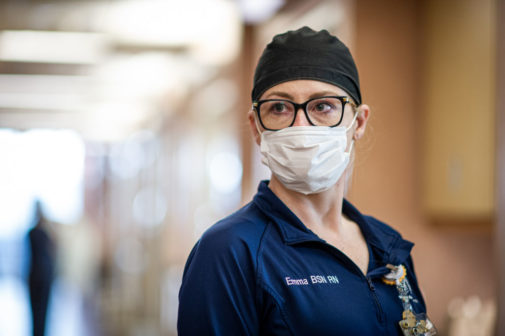 For Emma Lee, registered nurse in the MRICU at Aurora St. Luke's Medical Center, the pandemic has had a real emotional cost. Her unit sees the sickest COVID patients. They've all had to adapt.
"Before COVID, nurses did a little bit of everything. Now, we have to be the nurse, we have to be the family member, we have to be a friend," said Lee. "There are so many roles we have to play now."
Her team has stepped up to the plate. They check in on one another, talk about what their experience is like and, sometimes, cry together. It's an experience that's hard for other people to understand.
"In the past 8 months I've lost more patients than some people have in their entire career because of this virus," said Lee. "We thought we could do this, but, as time went on, we saw the same thing over and over and over. There's no break from it."
Lee has isolated from family and friends to avoid spreading the virus. When she does talk to others outside of her unit, she doesn't want to weigh them down with the hard things she sees at work.
"A lot of the nurses are struggling with their mental health. I was really struggling over the summer," she said. "If I'm not my best self, how am I supposed to go to work and care for patients? It's OK to not be OK."
Lee decided to take advantage of therapy and counseling options she heard about through Advocate Aurora Health. Having someone to talk to about what she's experienced has helped a lot.
"We can do virtual therapy sessions like a video or phone call just to talk about how we're feeling," said Lee. "It's been great to know I have the support for my mental health during these times. It's a lot to take on."
Besides the resources she found through work, Lee has discovered other ways to take care of herself.
"I do things I enjoy like catching up on an old TV show or cooking. Those things made me happy before and so I'm going to continue doing them in these times," she said.
If you are struggling with your own mental health, reach out to your doctor. Counseling and other forms of help can make a huge difference in your day-to-day life. If you're looking for someone and live in Wisconsin, click here. If you live in Illinois, click here.
Related Posts
Comments
About the Author
Ben Hoekstra is a public affairs coordinator with Advocate Aurora Health. He previously worked in marketing and PR for various Milwaukee nonprofits and received his master's degree in Corporate Communications from Marquette University. He enjoys the outdoors, cooking, and all things Milwaukee.