The best things in life are worth waiting for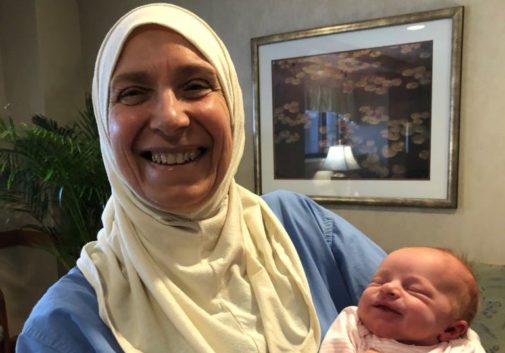 Holly Williams and her husband had been trying for years to have a baby. The two met later in life and were excited to start a family together. For them, it ended up being a longer process.
The couple first went to the fertility clinic at Aurora West Allis Medical Center in 2016. After some tests, Williams found out she'd need surgery to remove fibroids. That didn't stop them. After recovering from a successful operation, she came back.
"We said we would do anything possible," Williams says.
The couple went through several rounds of intrauterine insemination, or IUI, as well as egg retrieval. After several attempts, they got great news in the middle of 2019. Holly was pregnant.
"I want all my patients to be pregnant," said Dr. Aida Shanti, Williams' doctor and the Reproductive Endocrinology & Infertility Specialist at Aurora West Allis. "The best moment to me is when I see my patients happy. It means more than anything."
Holly's daughter, Kelsey Grace, was born on Jan. 30, 2020, at 7:47 a.m. at 19 inches and 7 lbs. Kelsey is a little over 10 months old now and started walking in October. She even has six words down.
"She's a very happy baby," said Williams.
Despite the long process, the couple is thrilled to have their little girl with them.
"It's an emotional rollercoaster. I would say 80% of the time I'm a pretty positive person," Williams says. "The other 20% of the time it's heart-wrenching and emotional."
After years of ups and downs, the couple has been enjoying time with their daughter and is grateful they were able to get help at Aurora West Allis.
"Aurora is best known in the area as far as success goes and so we didn't even think about looking elsewhere," said Williams. "Never did I say I wish I hadn't come here. I never questioned it."
For those thinking about getting treatment, Dr. Shanti encourages them to start now.
"Don't wait," Dr. Shanti says. "Sometimes time is not on your side. We are very individualized and will do everything to help you get pregnant."
Pictured: Dr. Shanti and Kelsey.
Read more:
Related Posts
Comments
About the Author
Ben Hoekstra is a public affairs coordinator with Advocate Aurora Health. He previously worked in marketing and PR for various Milwaukee nonprofits and received his master's degree in Corporate Communications from Marquette University. He enjoys the outdoors, cooking, and all things Milwaukee.