These four sisters want to help others after losing both parents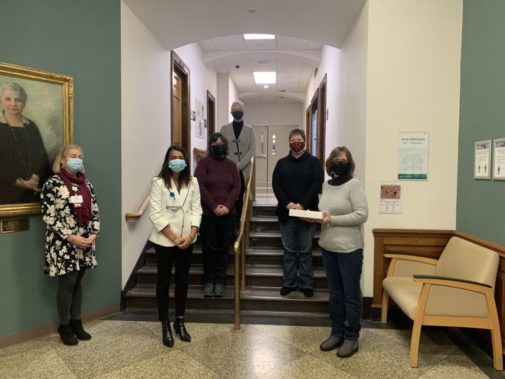 For Patty Brunmeier and her three sisters, the last seven months have been tragic. In June, they lost their mother after a series of stays in the hospital. A few months later, their father ended up in the COVID unit at Aurora Sheboygan Memorial Medical Center.
"When he arrived, his stats were dropping fast.  The doctor called us and told us to come right away," Brunmeier says. "She even FaceTimed us so we could talk with Dad while he could still communicate. He was asking to see us. On our way there, we found out only one of us would be able to go in."
The four sisters decided which one would go in to say goodbye to their father. The other three sat in the parking lot, saying goodbye to their dad over a video call. They stayed there until he passed away.
"It's never an easy time to lose somebody, but not being able to be by their side is even more difficult," Brunmeier  says.
When the sisters set up the memorial, they all agreed to use the memorial funds to help others who faced the same hardship they had. They donated six iPads to Aurora Sheboygan Memorial so that other families could say goodbye.
"We just hope that more people will be able to say goodbye even if they can't go in and have that last word with their loved one," Brunmeier says. "People need that closure, that chance to say goodbye. We realized that not everyone has an iPhone and the access to do something over video like we did."
The sisters' donation will be used to help families connect with their loved ones even when they aren't able to visit them in person. All four of them were so grateful for the chance to say goodbye to their dad and for the care he received.
"Everybody was just so kind. We can't say enough about how everybody was just there for us, especially for my sister who got to be with my dad," Brunmeier says. "They even reached out to us after he passed and asked if there was anything they could do for us."
Brunmeier and her sisters wanted to give others the chance to say goodbye to their family members in such a difficult time.
"We wish more people would take this seriously," she says. "We never thought we'd lose both parents this year and we couldn't be with either one because of COVID. You may not be affected by COVID or have a serious case, and that's wonderful, but some people are affected and it's not fair for them to be alone."
Brunmeier and her sisters hope that even after COVID, their gift will help other families.
"If this small act can help just one family, we have made a difference," she says.
Related Posts
Comments
About the Author
Ben Hoekstra is a public affairs coordinator with Advocate Health Care and Aurora Health Care. He previously worked in marketing and PR for various Milwaukee nonprofits and received his master's degree in Corporate Communications from Marquette University. He enjoys the outdoors, cooking, and all things Milwaukee.