West Dundee family credits medical workers for support during premature baby's time in NICU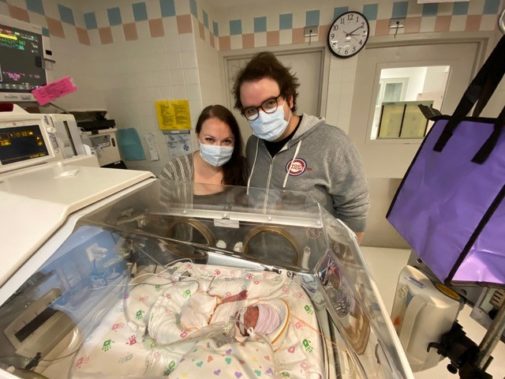 Being a new parent is hard – but add in a premature birth and a global pandemic – and it's no doubt a recipe for a tough season in life. But new parents Brendan and Ali Hilliard say instead they're filled with immense gratitude, thanks to the group of health care heroes who became their family during their son Remy's first 3 months of life.
In June, at 27 weeks pregnant, Ali Hilliard was admitted to Advocate Sherman Hospital for severe preeclampsia. After several steps were taken to reduce Ali's blood pressure, it was clear she was going to need to deliver soon, even though her son wasn't due until Labor Day weekend. She was rushed to Illinois Masonic Medical Center where the NICU was readied to care for such an early birth.
On June 10, Remy Hilliard was born via emergency C-section at 27 weeks gestation, weighing 1lb and 11 oz. While Ali still needed intensive care from the Mother-Baby unit, Remy was admitted to the NICU where he would start his long journey.
The Hilliards began living in time increments marked by milestones. It was first praying Remy would survive the first 24 hours, then 3 days, 5 days, 10 days, and 30 days. While little Remy was tough and fought hard for his life, he went through it all: ventilators, blood transfusions, severe diaper rash, a CPAP machine, hernia surgery and much more.
Nearly every day for 75 days, Brendan and Ali Hilliard drove 80 miles round trip from their home in West Dundee to the hospital in Chicago to see Remy. Because of COVID, no extended family could visit and only one parent was allowed in the NICU at a time, so one parent had to wait in the car in the parking garage for hours while the other went inside to be with Remy. Then, they'd switch. It didn't go unnoticed to the Hilliards that their care team would spend time comforting and explaining Remy's updates to one parent before telling the exact same story to the other hours later.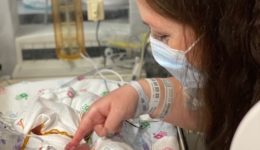 Ali Hilliard said she feels "bonded for life" to the NICU nurses who not only helped keep Remy healthy, but also supported her emotionally through such a tumultuous time. Nurse Ambili Jacob, Remy's primary nurse, became affectionately referred to by the Hilliards as his "No. 1."
"When I couldn't have my mom or my sister there, the nurses became my family," Ali Hilliard said. "They were rubbing my back and holding me while I cried. They were our backbone when we needed it – they are living angels on earth. We could not have gotten through this without them."
During their months of visiting Remy, the Hilliards witnessed the stress the entire hospital staff was feeling due to COVID. But the entire team was calming, loving, empathetic and supportive, from the moment they would walk in the door at Masonic to the moment they left, Brendan Hilliard said.
The Hilliards said they were incredibly grateful to both the Sherman team that triaged and cared for Ali before delivery and the entire Masonic care team that helped support their family physically, mentally and emotionally for Remy's birth and 75 days in the NICU, including Dr. Caitlin Walker, Colleen Bokor Williams, Elizabeth "Lizzie" Gussis, Ambili Jacob, Esther Freedman, Linda Brancato, Dr. Noredia Alile and Dr. Tina Taube. They also expressed gratitude for the front door staff at Masonic who they said "made all the difference," including Dale Hassett, Dustin Martinez and April Howard.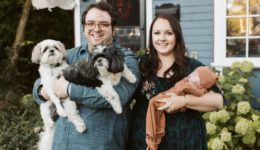 "Everyone – including the friendly faces that greeted us at the front door to check our temperatures, the people who let us on to the NICU floor, the caring staff that cleaned the floors at night or emptied the garbage – got to know us and even checked in when we'd see them in in passing," Brendan Hilliard said. "Whether or not they knew it, these people were our home away from home and our family away from family during the most challenging time in our lives."
After making it through weeks of care in the NICU, Remy was cleared to go home on Aug. 24. He weighed 5 lb., 7 oz. Now, in January, he's more than 13 lbs. and a happy baby who "wakes up every day smiling" according to his parents.
Click here for more stories about doctors, nurses and others working on the front lines.
Related Posts
Comments
About the Author
Bridget Kozlowski, health enews contributor, is a public affairs manager with Advocate Aurora Health. She holds a masters degree in Public Affairs and a bachelor's degree in journalism, both from the University of Missouri. Bridget previously worked as a reporter for the Chicago Tribune and has also lead local government communications teams for both the City of Sterling Heights, Michigan and the Village of Lombard, Ill. Bridget loves trying new restaurants, traveling and spending as much time as possible with her son, husband and rescue mutt.