A legacy of healing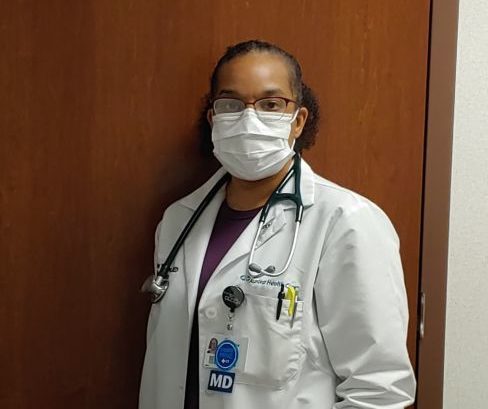 For Wisconsin family medicine practitioner Dr. Christina Meyer, Black History Month reminds her of Dr. Rebecca Lee Crumpler, America's first Black female physician. Dr. Meyer is inspired by the 19th century trailblazer, and proud to follow her footsteps and make a difference in her community.
"If it wasn't for her, I wouldn't be a doctor today," said Dr. Meyer, who treats patients at Aurora Medical Center in Summit. "She struggled through racism, sexism and a lot of adversity in order to pave the way for future African-American female physicians like myself."
Practicing family medicine allows Dr. Meyer to build long-term relationships and help people with all sorts of medical needs. Even during COVID-19, she's seen how important it is not to delay medical care. She remembers one patient who came in complaining of headaches and was diagnosed with a brain tumor. Because she caught it early, Dr. Meyer was able to recommend surgery and now the patient is recovering well.
Growing up on the South Side of Chicago, Dr. Meyer suffered from childhood allergies and frequent visited her pediatric allergist, who planted the seed for her own career in medicine. After finishing medical school at Loyola University, she moved to Milwaukee for residency.
"I love being able to help people and take care of them," she said.
As a Black woman, she's faced some challenges working in the medical field.
"A lot of doctors in my clinic don't wear their white coat. I always wear mine, because otherwise people sometimes assume I'm not a doctor," said Dr. Meyer. "You have to demand that people respect you and let them know that you're not going to let them disrespect you."
While being a Black doctor can come with some challenges, Dr. Meyer also remembers the patients she has been able to help in a way no one else could. She tells stories of patients who were overjoyed to find a doctor who looks like them.
"I had one patient who grew up down South and moved here for a job. She was so excited to find a Black doctor. That makes you feel good that people have someone they can see who looks like them and can understand where they're coming from," she said. "Those are moments where you feel like you're providing a service to the fellow members of your community. The more we can increase that diversity and encourage young African American and people of color to go into these fields, then it becomes less of a big deal."
Click here for more stories about doctors, nurses and others working on the front lines.
Related Posts
Comments
About the Author
Ben Hoekstra is a public affairs coordinator with Advocate Aurora Health. He previously worked in marketing and PR for various Milwaukee nonprofits and received his master's degree in Corporate Communications from Marquette University. He enjoys the outdoors, cooking, and all things Milwaukee.