Drawing inspiration from the unseen and unheard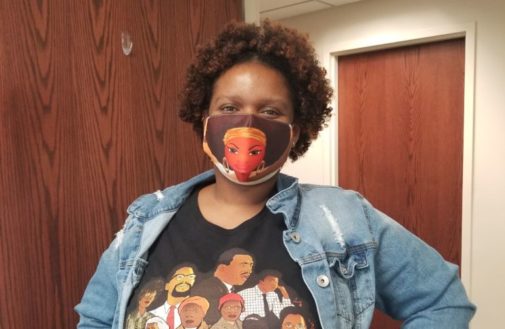 When Tameesha Jackson reflects on Black History Month, she thinks not only about the prominent figures, but also the important individuals behind them.
"Any major event has a face to represent it, but there are always other people involved," says Jackson, a behavioral health patient service account representative at Aurora Health Center in Oshkosh, Wis. "For the most part in schools, the history books touch on Dr. King, Harriet Tubman, Jackie Robinson, and so on, but there are the forgotten people behind the scenes – like Rosa Parks' story – who helped make the historical events what they are."
In a world full of happenings, it can be difficult to find where you fit in, but when Jackson thinks of the legacy she wants to leave, she knows it involves being an example to her five nieces and her nephew. That's one of the reasons she's pursuing her master's degree in forensic psychology.
"Even if I'm not the face of a historical event, I at least want to be able to say that I played a part in it and contributed to it," Jackson says.
She also notes how important Black representation is in all aspects of career options, citing Kamala Harris's recent history-making winning election as the first Black Vice President of the United States.
"We need more representation so that the generations after us know they can do it," says Jackson. "Let's do what Kamala did, but with other occupations that seemed out of reach when we were growing up. We need to keep raising each other up, pulling each other forward so we can continue to push future generations past where we are now."
To be able to grow, both personally and as a society, we need education. And while education should be ongoing all year long, Jackson says Black History Month is a great place to start.
"Culture should be shared all the time, but this month is that time of year to be extra loud and extra proud of our heritage and where we come from, and to share it," she said. "You can't spread awareness without being educational – educating ourselves and educating each other, too. We should try to learn something new every day and share something new every day."
Click here for more stories about doctors, nurses and others working on the front lines.
Related Posts
Comments
About the Author
Brianna Wunsch, health enews contributor, is a public affairs coordinator for Advocate Aurora Health with a BA in public affairs from University of Wisconsin - Green Bay. In her free time, Brianna enjoys living an active lifestyle through biking, hiking and working out at the gym, but even more than that, she especially loves spending quality time with her two cats (Arthur and Loki), son and husband.