What I want you and my patients to know during Black History Month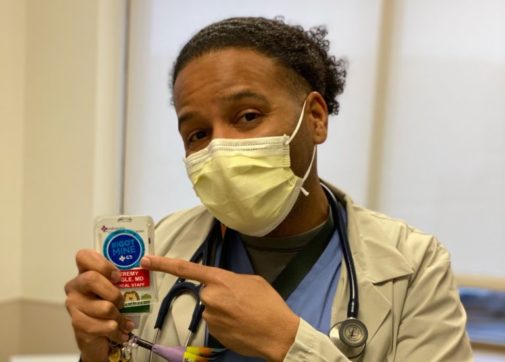 My name is Jeremy Daigle. I'm a pediatrician at Advocate Children's Hospital. I can tell you stories about where my passion for pediatrics stemmed from. I could also tell you about times in my life I was treated differently because of the color of my skin. Or I can share both and how they've shaped me into who I am today and the reason I advocate for my patients the way I do. 
Some of my earliest childhood memories include going to the hospital back in Louisana with my grandmother, who worked in health care. I attribute much of my love for the medical field to those years, as well as the relationship I had with my own pediatrician growing up. These memories are so formative to me, so much so that they inspired me to become a pediatrician and a special part of my own patients' early memories.  
Knowing my work affects the lives of children and their families is what motivates me every day. I want to be a familiar face to the patients I serve. For the Black families I care for, my familiarity means something more. It's so important for kids to see someone who looks like them and can relate to their struggles. The fact that I can bring comfort to these families when I enter the patient room because they see a face that is the same color as theirs speaks volumes about the apprehension some people feel when it comes to health care.  
When I walk into a room with a white family who has private insurance, our interaction looks very different from one with Black family who doesn't have insurance and took the bus to get to their appointment. There is a massive inequity when it comes to resources across patient populations. We need to be mindful of this, but that's not enough. As providers, we have to be cognizant of the issues. And as human beings, we must address them.  
People need care, but needs are not always being met. Instead, underlying bias can get in the way of addressing health issues. Many Black Americans don't trust our country's health system. Much of that stems from feeling dismissed by clinicians. Problems can be ignored or pushed to the side. A person's medical ailments need to be addresses and resolved, not ignored and dramatized. When this happens, we have failed. 
You may have never heard about this because it hasn't directly impacted you or someone you know. In fact, you may not be aware of many of the things black people face on a daily basis. But there's something you can do. Education is power. If you don't know better, how are you going to do better? 
Reach out to your diverse colleagues and friends. Ask them what you can do. If someone asked me, I would recommend becoming an ally in any way possible. Remember to consider your underlying tones and those of others. It's one thing to not be racist, but being anti-racist and calling others out in real time as things are happening means so much more. 
Three years from now, when the Black Lives Matter movement may not be as prevalent, I hope our efforts continue. I pray Black History Month and the events we are living through spark a new fire in all of us to be better.  
Click here for more stories about doctors, nurses and others working on the front lines.
Related Posts
Comments
About the Author