'This was our time to step up'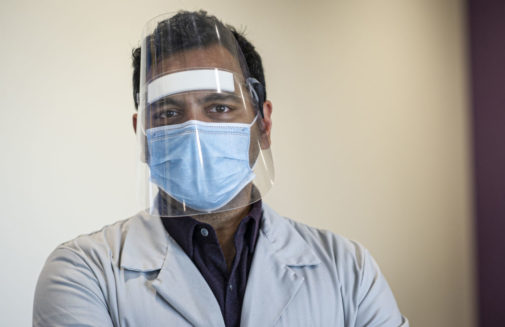 Since the start of the pandemic, every health care worker has gone through a very rapid transition. What we wear to work. How we communicate with our colleagues. How we spend time with our patients. All of these things have changed dramatically in the span of a few months, and we have all handled it differently. There was no playbook on how to respond, and there was no right answer.
For me, it's been a privilege to work with our pediatric intensive care unit (PICU) team to do whatever we can to fight back against this virus. Not everyone has been lucky enough to keep their job or their health, so I truly feel blessed.
I'm a pediatric critical care physician and have been with Advocate Children's Hospital since finishing fellowship in 2012. I am also the program director of the Pediatric Critical Care Fellowship and of the Pediatric Simulation program at Advocate Children's Hospital. My father and uncle started the pediatric intensive care unit on the Park Ridge campus, so I grew up being a part of this hospital. I love the feeling of community and family at the hospital. It's felt like home to me when I was a kid and still feels that way now. 
This is a scary time in society. On top of that, our patients in the pediatric intensive care unit are the most vulnerable. Being able to guide them and their parents through the worst days of their lives is what has always driven me to do this work. This has been especially true during the pandemic, and that's what makes me passionate about coming to work every day.
Like many others, I've spent some time working in the adult intensive care unit caring for COVID patients, so even the physical location and the specialty that we practice has changed for many of us. The saddest moments for all of us have been witnessing our patients spending their last few moments on Earth without their loved ones nearby. It's been truly heartbreaking to see and I hope to never see that again.
We've witnessed so many new things over the last year, but the main thing that has stood out to me while working on the front lines has been my coworkers. I have been so amazed by the flexibility and resilience of every single person working in the hospital. This was our time to step up, and everyone did just that without a second thought. They all understood that this was their duty, and if they didn't do it, no one else would. It was a time to really find out what kind of person you are, and I am so proud that I work with people who are willing to sacrifice everything for the health and safety of their patients. I'll never forget this time for that reason. 
COVID-19 is real, and it is scary, but if we are all willing to sacrifice a little bit, we can beat it. Wear a mask, socially distance and get your vaccine when your time comes!
Click here for more stories about doctors, nurses and others working on the front lines.
Related Posts
Comments
About the Author