Actor who played Screech in famous 90's sitcom dies from lung cancer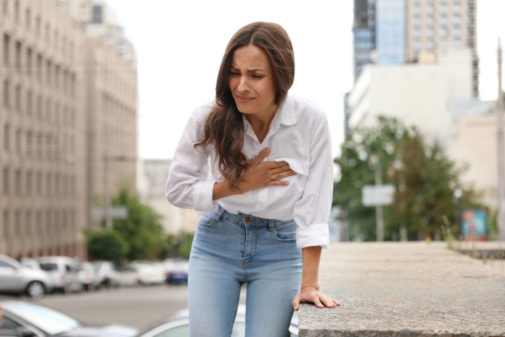 The recent passing of Dustin Diamond at the age of 44 shocked fans of Saved by the Bell. Diamond, best known for playing Screech on the 90's sitcom, was diagnosed with stage 4 small cell lung cancer only three weeks ago. He was not a smoker.
"Small cell lung cancer is one of two main types of lung cancer, but one which, although less common, grows at a faster speed," says Dr. Gary Chmielewski, Regional Director of Thoracic Surgery at Advocate Health Care. "People who may not have smoked are also susceptible to developing lung cancer and by the time they are diagnosed with small cell, the cancer often has spread to other parts of the body."
Most people with early stage lung cancer are asymptomatic. ​As a result, most patients are not diagnosed until an advanced stage when progression of the cancer brings about symptoms, including chest pain, coughing up blood, a cough that doesn't go away, fatigue, wheezing, unexplained weight loss and more. For this reason, the United States Preventive Service Task Force recommends that people who are at high risk for lung cancer, specifically people age 55-74 with a significant smoking history, speak to their primary care physicians about lung cancer screening. Studies have shown that a yearly low radiation dose chest CT results in people being diagnosed at an earlier more treatable stage, and most importantly, results in few deaths from lung cancer.
"The silver lining with small cell lung cancer is that patients tend to respond well, and fast, to chemotherapy," says Dr. Jason Macklis, hematologist/oncologist at Advocate Lutheran General Hospital. "Unfortunately, for most patients the treatment isn't a cure and the cancer often comes back."
Treatment options depend on many factors, including the patient's age, cancer stage and overall health.
"Surgery is an option for people whose cancer has not spread and is localized," says Dr. Chmielewski. "In other cases, radiation therapy, chemotherapy and immunotherapy are used to treat the advanced cancer."
Risk factors for developing small cell lung cancer are secondhand smoke, radiation exposure from cancer treatments, family history, exposure to asbestos and other chemicals or air pollution.
Both Dr. Chmielewski and Dr. Macklis encourage people with lingering symptoms, such as cough or chest pain, to seek medical care and visit their primary care physician for an exam.
To understand your risk of lung cancer, take our quick Lung Health Assessment.
If you need help quitting smoking, join our free virtual smoking cessation program.
Related Posts
Comments
About the Author
Neda Veselinovic, health enews contributor, is a public affairs coordinator at Advocate Lutheran General Hospital. She has more than five years of public relations experience and most recently worked with clients in the travel and hospitality industries. She prefers to spend her time with a cup of coffee and a good read and always welcomes book recommendations.