He's making patients happier and healthier through teamwork and excellence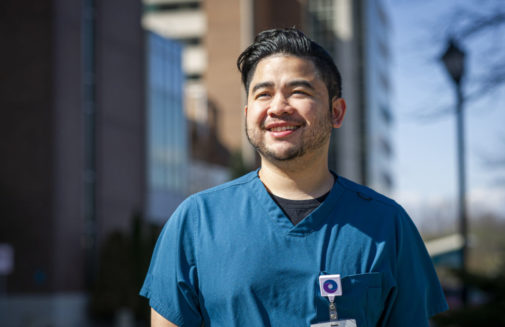 For Jason Carreon, nursing is the family business. He and his two sisters are nurses, along with his aunt and uncle. Back home in the Philippines, his dad was a physician and his mom a medical technologist.
But Carreon felt especially drawn to nursing.
"When it comes down to it, we have to be ready for everything," Carreon said.
He's one of 40 nurses in the cardiac medical-surgical unit at Aurora St. Luke's Medical Center in Milwaukee. Working the overnight shift, he's the charge nurse who oversees his fellow nurses who care for patients preparing for or recovering from surgery. His unit primarily treats patients with cardiac issues, ranging from chest pain to total heart failure.
With the organization since 2014, Carreon has also earned medical-surgical nursing certification for his expertise in treating patients.
"Being certified brings me personal and professional pride, but it also helps me anticipate the bigger picture when it comes to ensuring better patient outcomes," he said.
To that end, he and his team regularly seek ways to improve processes and hone their clinical excellence. Recently, Carreon's unit looked at how they can better treat patients with a central line, a type of catheter placed in a large vein allowing multiple intravenous fluids to be given and blood to be drawn. They found that additional cleaning and bathing with CHG antiseptic solution significantly reduced central line associated bloodstream infections (CLABSI) and led to improved patient outcomes.
"Teamwork is important, because you can't provide proper care without help from other nurses, therapists, environmental services and other team members," Carreon said. "When the team works well, patients are happier and healthier."
Are you trying to find a doctor? Look here if you live in Illinois. Look here if you live in Wisconsin.
Related Posts
Comments
About the Author
Matt Queen, health enews contributor, is a communication coordinator at Aurora Health Care in Milwaukee. He is a former TV sports anchor and journalist with extensive public relations experience across the health care spectrum. Outside of work, Matt enjoys watching sports (of course), cooking, gardening, golfing and spending time with his wife and two young children.