Helping those who've lost hope with compassion and excellence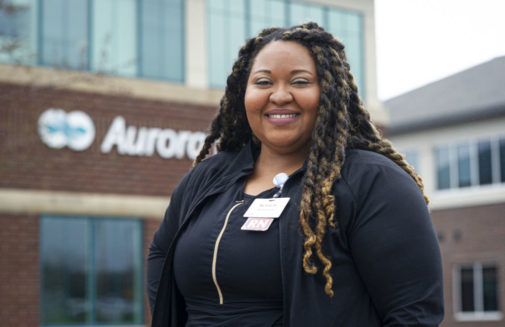 As a behavioral health nurse, Na Kita Butler views compassion – especially for those who are most vulnerable – as a key part of nursing excellence.
"In my current role, excellence is best on display during crisis intervention," said Butler, who works at Aurora Health Center in Oshkosh, Wis. "Being able to help someone through a moment when they have lost all hope can be hard…but it's one of the most rewarding parts of my job."
Her job can also be lifesaving, she said, and not just through mental health treatment. Learning to look at the whole patient, and considering body language, labs, vital signs and a full personal history "has helped catch dangerous medical situations that mimicked a mental health concern," she said.
Butler, who is also pursuing her master's degree to become a psychiatric mental health nurse practitioner, was inspired to go into nursing by her mother, a retired psychiatric correctional nurse and supervisor who worked with those incarcerated.
"My mom looked beyond their wrongdoings and treated them like she would anyone else," Butler said. "She's my nurse hero."
When the pandemic hit, Butler noticed more people seeking treatment for anxiety or depression, but she also knows there are many who don't see mental health as a priority, don't talk about it or even view treatment as weakness. Butler points to data that shows people of color are less likely to seek out mental health treatment and when they do, they're more likely to terminate treatment sooner than other ethnic groups.
Those hesitant to seek treatment might be more willing to open up to a nurse who understands their cultural experience, Butler has discovered.
"The nursing workforce should reflect those who are receiving care," she said. "We all have different cultures and beliefs. This allows us to learn from each other, check our unconscious bias at the door and improve patient care and communication. Sometimes it's just comforting for the patient to see the face of someone who may have shared experiences."
A diverse workforce benefits not only patients but also Butler and her colleagues.
"I love my work team because we are diverse," Butler added. "I have learned so much from them and they have learned from me."
She's also constantly learning on the job from her patients – a rewarding experience.
"I get to see them initially, and then after they're on the right medications and after a few months, when they're smiling, laughing and thriving in life," she said. "I'm in it with them for the long haul."
Are you trying to find a doctor? Look here if you live in Illinois. Look here if you live in Wisconsin.
Related Posts
Comments
About the Author
Kate Thayer, health enews contributor, is a public affairs coordinator with Advocate Health Care. She spent nearly two decades as a journalist, most recently as a reporter at the Chicago Tribune. Throughout her career, Kate has written about public health, politics, government, education and legal issues, along with human interest stories. She enjoys running, podcasts and her twin daughters.