Home health nurse a lifeline for patients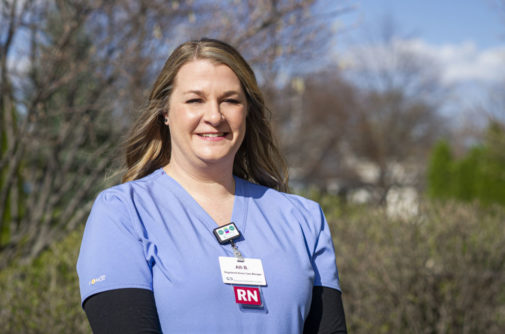 Many home health patients live alone or, as was the case throughout the COVID-19 pandemic, are isolated from their loved ones. Although that creates challenges for health care professionals, it's also one of the things that make the job so rewarding for home health nurse Allison "Alli" Wild.
"For many people, their home health nurse is a lifeline," said Wild, a veteran nurse who moved from inpatient to home health four years ago and treats patients in Advocate Aurora Health's Greater Milwaukee and south Wisconsin patient service areas.
That was the situation with one of her recent patients. The patient suffered from leg wounds that required months of care. Thankfully, she improved under Wild's expert care.
"The happiest days for me are when I can discharge a patient from our service, on the road to recovery and to being independent again," Wild said. "That means I have done my job."
In home health, Wild cares for patients with a wide range of conditions. She pursued hands-on education to care for heart patients surgically implanted with specialized technology called LVAD – left ventricular assist device – which helps pump blood from the heart's left ventricle to the rest of the body. These patients have complex health care needs once discharged from hospitals like Aurora St. Luke's Medical Center, which operates an LVAD clinic.
Early in her home health training, Wild shadowed a nurse skilled in taking care of patients with an ostomy, a surgically created opening in the abdomen that allows waste or urine to leave the body, and completed additional training in the care of patients who underwent tracheostomy, a surgically created opening in the windpipe to help patients breathe.
"Wound care education is an ongoing priority for me, too," she said. "Wound care products and techniques change and improve often. With many of our patients requiring this level of care, I need to stay updated on the latest best practices."
But Wild emphasizes that clinical skills represent just one part of her work.
"Good communication with my patients and their family members is vital to their recovery," she said. "I begin by getting to know them, their backgrounds, and their concerns. I try to take things slowly and explain things to them in a relatable way so that I can gain their trust. My patients need to know I am doing everything I can to help them."
Are you trying to find a doctor? Look here if you live in Illinois. Look here if you live in Wisconsin.
Related Posts
Comments
About the Author