Early detection of fetal heart defect helped family, care team plan and form bond to support Maddie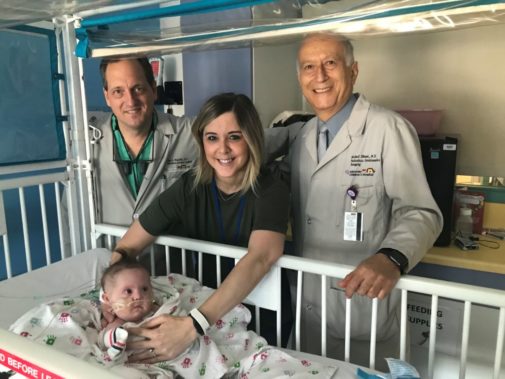 When Josh and Stacy Binder learned at their 20-week anatomy scan that their daughter Madisyn, or "Maddie," had a heart defect, they were understandably nervous about what the future held for their family. But as scared as they were initially, they said they never felt like they were on the journey alone, thanks to the support of the care team through Advocate Children's Hospital and the Chicagoland Children's Health Alliance.
Following the anatomy scan diagnosis, the Binders were referred to Dr. Saad Siddiqui, pediatric cardiologist at Advocate Children's Hospital, for a counseling session and to establish a care plan for both Maddie and Stacy for the remainder of her pregnancy. Further genetic testing revealed Maddie had Down Syndrome, so there were other health considerations worked into her plan.
"The comfort level we felt right away in such a foreign world was unbelievable," Josh Binder said. "It was the demeanor of Dr. Siddiqui that meant the most. He didn't treat our situation like he was delivering bad news. Instead, we talked about how awesome Maddie was going to be and how she would be looked over by 20 of the best cardiologists from the very beginning. He talked to us like our situation was normal when we were feeling anything but. We were so comforted."
Thanks to the early diagnosis, Dr. Siddiqui and the team was able to counsel and guide the Binders on what to expect for delivery, post-natal and her first six months of life.
"We prepare our families for every stage of care; our job is to get the parents ready for what's ahead and coordinate with our specialty areas," Dr. Siddiqui said. "We let them know what we are seeing and what we expect the clinical picture to look like after birth. From the beginning of the diagnosis, we're working closely with neonatologists and the high-risk obstetricians."
Dr. Siddiqui said the Binders were extremely strong and positive from the very beginning, immediately asking what they could do to provide the best-case scenario for Maddie and plan for her care.
Maddie's diagnosis required two stent procedures done within the first month of life and a complete heart repair just before she was 3 months old.  Over the first few months of her life, Maddie was monitored very closely by the ACH heart team, including Dr. Siddiqui, Dr. Michel Ilbawi and Dr. Luca Vricella. In those first few months, she had to undergo additional heart surgeries and procedures.
The Binders know Maddie's health journey isn't over, but they're taking everything month-by-month, every appointment day-by-day to find out what's next. Maddie, who is now 2 years old, looks forward to seeing familiar faces at her heart appointments. She's described by her parents as a "little diva" and "full of sass and sunshine."
"We joke, everyone has bad days – except Maddie. Maddie doesn't have bad days," Stacy Binder said. "She's always laughing, smiling, and posing for the camera. I have such a sense of pride knowing every obstacle she's been through and how she's come out smiling."
The benefit for families who seek care through Advocate Children's Hospital and the Chicagoland Children's Health Alliance is the comprehensive nature of the program and the continuity of care, Dr. Siddiqui said.
"The integration of all of our sub-specialty teams provides parents with every discipline that's available," Dr. Siddiqui said. "Many of these children will need continued, lifelong care, and connecting in with our specialists ensures they don't ever need to leave our program for excellent care."
Related Posts
Comments
About the Author
Bridget Kozlowski, health enews contributor, is a public affairs manager with Advocate Aurora Health. She holds a masters degree in Public Affairs and a bachelor's degree in journalism, both from the University of Missouri. Bridget previously worked as a reporter for the Chicago Tribune and has also lead local government communications teams for both the City of Sterling Heights, Michigan and the Village of Lombard, Ill. Bridget loves trying new restaurants, traveling and spending as much time as possible with her son, husband and rescue mutt.