Catching this pregnancy complication early allowed her to celebrate her first Mother's Day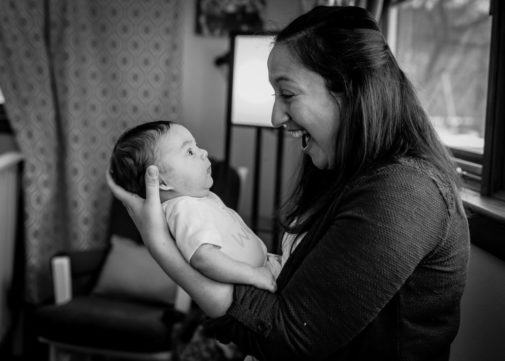 Abby Bar-Lev Wiley, of Bayside, is looking forward to her first Mother's Day as a mom of two this year. It's been a long road and there were times she didn't think she'd see it, after a normal, joyful pregnancy quickly turned into a life-threatening diagnosis.
When Abby went in for her checkup at 20 weeks, she was feeling fine. She figured the ultrasound would go fine and that the doctors would tell her everything looked good.
When they had a virtual appointment with a high-risk pregnancy specialist later that afternoon, Abby knew something was wrong. The doctor told her that she was showing signs of placenta accreta, a serious pregnancy complication that affects roughly 1 in 500 pregnancies. Placenta accreta occurs when the placenta grows too deeply into the walls of the uterus, causing serious risk of severe bleeding during pregnancy and birth. Abby was told that she would be monitored closely for the rest of her pregnancy, and that she would need a hysterectomy and a premature delivery via C-section.
"We were completely shocked. It was not news we were expecting," said Abby. "It emotionally shifted us from the joy of being pregnant to being how can the team take care of me so that the baby and I come through it OK."
Often, there are no signs of placenta accreta during pregnancy. When the condition is suspected, a C-section, or even a hysterectomy can be needed to keep the mom and the baby safe. Having a care team that's experienced in the condition goes a long way, too.
"Catching the condition this early was lucky," said Dr. Nicole Salvo, OBYGN and director of the Placenta Accreta Spectrum Disorder Team at Aurora Sinai Medical Center. "We've come a long way at diagnosing abnormalities like this before birth and being able to be prepared to take care of laboring moms no matter what happens."
Thankfully for Abby, the team at Aurora Sinai was able to discover her condition early in her pregnancy—giving Abby time to process through the difficult diagnosis and all the ways it would change her plans for her delivery and its aftermath.
"The emotional impact of it is long term. It was a real saving grace that we had such good care and had months to wrap our minds around it as best as we could," said Abby. "We knew that we were in the right hands."
Throughout her pregnancy, Abby and her husband both wondered about what was coming next, what they should be doing now and so many other aspects of the pregnancy that looked different than they had hoped.
"It was confusing and not something we had heard of before. We would call with questions. I would send a lot of messages in the LiveWell app," said Abby. "Everyone always got back to us quickly. The responsiveness, the patience, the empathy and the amount of experience that every provider clearly had made us feel taken care of and seen as individuals."
Being able to ask questions throughout the process helped Abby feel more in control and less anxious. She ended up staying in the hospital for two and half weeks before she had Micah at 32 weeks. With COVID visitor restrictions in place, it could have been a lonely period. She remembers how often the nurses on the floor would sit and talk with her. Dr. Salvo and members of her team checked in regularly, too. And when it was time for the surgery, the team was prepared for a massive blood transfusion and managed to keep Abby, who was under an epidural for the C-section and hysterectomy, stable despite tremendous blood loss. Abby credits the team for saving her life without her even realizing she had lost any blood at all.
"We are convinced we would not have gotten better care anywhere else in the world besides Sinai with Dr. Salvo and her team," said Abby. "It really was the bright spot of the diagnosis."
Abby and her now six-month-old son, Micah, are doing well. This Mother's Day, she's so thankful for the team that kept her and Micah safe.
Related Posts
Comments
About the Author
Ben Hoekstra is a public affairs coordinator with Advocate Aurora Health. He previously worked in marketing and PR for various Milwaukee nonprofits and received his master's degree in Corporate Communications from Marquette University. He enjoys the outdoors, cooking, and all things Milwaukee.