Right place, right time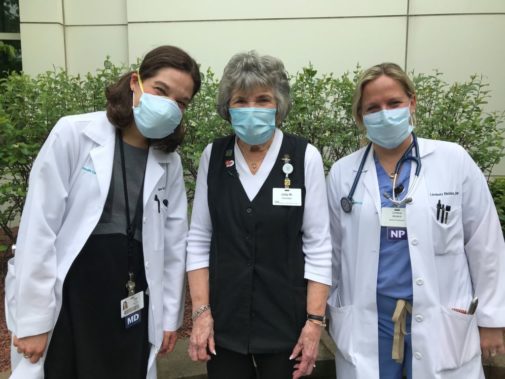 Imagine a routine day, doing something you've done for nearly 60 years.
Then, with no sign or heads up, everything goes black.
You're in a fight for your life, and it's a race against time.
For Judy, that nightmare became reality. An Aurora retiree-turned-volunteer at Aurora St. Luke's Medical Center in Milwaukee, Judy served the organization since 1963.
At age 83, she continued to volunteer during COVID-19 by guiding patients and visitors through the hospital. After a shift in January 2021, she headed to the cafeteria to eat.
That's when the lights went out.
Judy got up from the table, fell to the ground and couldn't speak. Bystanders could see the signs. She was having a stroke.
Thankfully, not only was she in a hospital, but also one that excels in stroke care. Judy was taken directly to Aurora St. Luke's Comprehensive Stroke Center for evaluation.
"She was in the right place and the right time," said Lindsay Biddick, DNP, stroke nurse practitioner who first examined Judy. "She couldn't talk or move her right side. We needed to take prompt action."
A CT scan showed that she had an ischemic stroke. Judy was prepped for a thrombectomy to clear the blood clot. But because she was diagnosed so quickly, she was able to receive a clot busting medication that cleared the blocked blood vessel.
In just a couple of hours, Judy went from feeling fine, to suffering a life-threatening stroke, and then recuperating. In fact, she was well enough to return home the next night.
"It all happened so quickly, it was a little scary," said Judy. "But the care I got was so fast, it was a miracle I was there."
Several months later, Judy was back at Aurora St. Luke's, not for an emergency, but to do what she loves, volunteering and assisting patients and visitors to the hospital.
"She is very fortunate to have had such a good outcome and we are so thankful to be part of her medical team," said Dr. Ilana Ruff, medical director of Aurora St. Luke's stroke program. "It means even more that we could save the life of somebody who is part of our team."
Up to 80% of strokes are preventable. Take our Stroke Risk Quiz now.
Related Posts
Comments
About the Author
Matt Queen, health enews contributor, is a communication coordinator at Aurora Health Care in Milwaukee. He is a former TV sports anchor and journalist with extensive public relations experience across the health care spectrum. Outside of work, Matt enjoys watching sports (of course), cooking, gardening, golfing and spending time with his wife and two young children.