Moving toward health equity for the LGBTQ community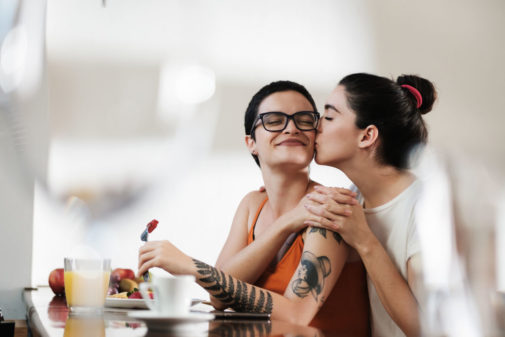 Members of the LGBTQ community experience unique health challenges. To reduce inequities, health care physicians and advanced practice clinicians need to cultivate open and accepting attitudes toward their patients as well as the ability to collect and analyze data on the population as a whole, advocates and allies say.
Without a push to examine data on sexual orientation, gender identity and other ways patients self- identify, it's difficult to discern how the COVID-19 pandemic, for example, is affecting the LGBTQ community – causing some members of that community to feel invisible.
"The pandemic and subsequent vaccination effort illustrates how important it is to provide an environment that is open and accepting of patients from any community, including LGBTQ, to self-report their preferences, pronouns, gender, et cetera," said Dr. Sylvia Meltzer, a family medicine physician in Milwaukee. "This is important not only from a disease tracking standpoint and the ability to design interventions but also so we can provide the most appropriate health care possible to each individual."
Examining sexual orientation and gender identity data would increase the visibility of vaccine disparities and allow policymakers and health care physicians and APCs to more nimbly and equitably allocate resources and craft messaging campaigns for members of the LGBTQ community, Meltzer and others say.
Meltzer wants to normalize collection of this data — just like age, race, ethnicity and other demographic information. When seeking this data, Meltzer urges fellow physicians and APCs to ask questions in a way that signals openness. This will establish trust, respect and a feeling of safety.
"Pride Month is an excellent time for all of us as health care physicians and APCs to think about the environment we create for our patients," Meltzer said. "Are we asking questions in a way that signals openness to non-normative answers, safety and compassion? For example, when talking about social and sexual history, we need to signal we're not making assumptions – and that we're open for patients to reveal things that are important to them as individuals and important to us to provide the best possible care."
Are you trying to find a doctor? Look here if you live in Illinois. Look here if you live in Wisconsin.
Related Posts
Comments
About the Author
Amy Werdin, health enews contributor, is a provider public affairs coordinator with Advocate Aurora Health. She has been with the organization for 19 years, starting out in marketing for Advanced Healthcare, then Aurora Health Care and now in her current role. She enjoys reading, movies and watching her two daughters dance and her son swim.