Playground safety: Enjoying outdoor activity while avoiding injury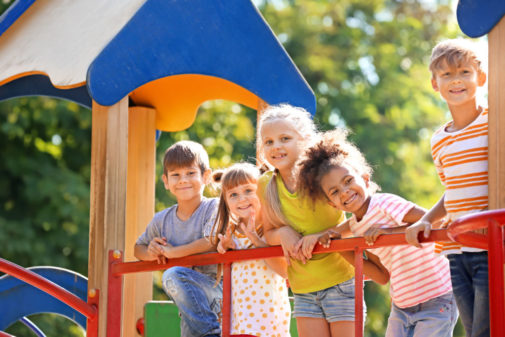 Warm weather has families flocking to playgrounds to help kids burn energy, and local pediatricians are rejoicing at the sight of increased physical activity and outdoor playtime to benefit mental health. But, as excited as we all are for more outdoor activity, experts say it's important for parents to be vigilant and help mitigate injuries for kids moving fast at crowded playgrounds this spring and summer.
According to Dr. Kristina Walick, pediatric orthopedic surgery specialist at Advocate Children's Hospital, there has been a noticeable uptick in playground injuries this year due to falls on climbing equipment specifically causing fractures of wrists, elbows and ankles.
"Fractures account for about 35% of all playground injuries presenting to the emergency departments – with about 50% of the extremity fractures requiring hospitalization occurring on monkey bars or climbing gyms," Dr. Walick said. "Injuries such as cuts, scrapes and contusions can also occur – and even when using equipment like swings or slides."
Children should always be supervised while at the playground to help avoid injury, Dr. Walick said. Here are several tips to keep your children as safe as possible:
Look for playgrounds with a surface base of shredded rubber, wood chips or sand. These surfaces are safer than those with asphalt or cement because they provide a softer landing.
Keep an eye out for damaged equipment, which may have sharp edges.
Avoid the playground if it is wet. Wet equipment can be slippery and children can fall easily.
Take into consideration your child's age and size; make sure the playground is an appropriate size for your child.
Children should always wear shoes to the playground and not go barefoot. Going barefoot puts your child at risk of getting splinters or glass in their feet. Also, keep shoe laces tied because loose shoe strings can get caught and cause a fall.
Make sure your child goes down the slide one at a time. If a young child is on an adult lap going down the slide, their leg can get caught under the adult, causing a twisting injury to the leg and possibly a fracture.
Only one person should be on a swing at a time. Also, watch when walking in front of a moving swing. If the child is too close, they can be hit.
"Playgrounds provide a great place for children to get out and have fun, so we want to encourage outdoor playtime on these structures," Dr. Walick said. "But, after play, take note if your child complains of pain in a specific area. If there is a noted deformity, this is likely a fracture and you should seek care right away. If there is swelling, this could also be a fracture. Pain or limping that does not resolve in one or two days is concerning and may indicate an injury that should be treated."
If you think your child may have an injury, Dr. Walick said parents should contact their pediatrician or provider right away.
Are you trying to find a doctor? Look here if you live in Illinois. Look here if you live in Wisconsin.
Related Posts
Comments
About the Author
Bridget Kozlowski, health enews contributor, is a public affairs manager with Advocate Health Care and Aurora Health Care. She holds a masters degree in Public Affairs and a bachelor's degree in journalism, both from the University of Missouri. Bridget previously worked as a reporter for the Chicago Tribune and has also lead local government communications teams for both the City of Sterling Heights, Michigan and the Village of Lombard, Ill. Bridget loves trying new restaurants, traveling and spending as much time as possible with her son, husband and rescue mutt.