What is hypertension?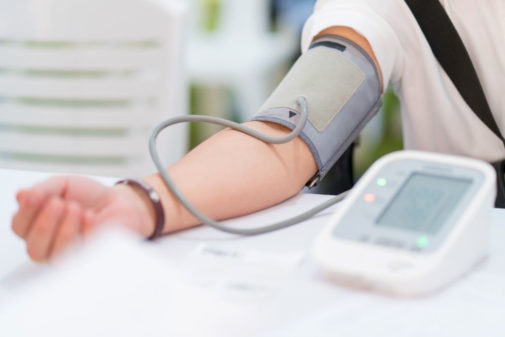 You may have heard someone talk about hypertension, often called high blood pressure. The condition, which refers to blood pressure higher than 130 over 80, is incredibly common in the U.S. In fact, almost half of all Americans have hypertension, according to the American Heart Association.
Many other people have elevated blood pressure, which can quickly turn into hypertension without the proper lifestyle changes. Hypertension is associated with much higher risk of stroke, heart attack and overall cardiovascular disease.
"Cardiovascular disease is the number one killer in the United States," said Dr. Patrycja Galazka, cardiologist at Aurora St. Luke's Medical Center. "80% of it can be prevented, and high blood pressure is a big part of that."
While medications can be used to help lower your blood pressure, there are other simple steps you can take now to keep your blood pressure in a healthy range.
"It's important to start early. Don't wait until you're in your 50's or 60's," said Dr. Galazka. "Know your numbers."
Your risk of developing hypertension is influenced by many different factors, including some that you can't control like age and genetics. However, many of the risk factors are lifestyle choices you can change. Diet, exercise and the right amount of sleep are all big parts of keeping your blood pressure in a healthy range.
"A low-sodium diet with large amounts of fruits and vegetables along with physical activity is more effective than medication," said Dr. Galazka. "Changing your lifestyle choices into healthy habits should be the first thing you do."
Make sure your diet is low in sodium and includes enough potassium. That can help reduce your risk of developing high blood pressure and can even help influence other risk factors, like obesity. Exercising for at least 150 minutes of moderate aerobic activity or 75 minutes of vigorous aerobic activity each week as well as getting enough quality sleep are also important.
In addition to what you eat, smoking and high levels of alcohol consumption can also increase your risk of developing high blood pressure. Moderating the amount of alcohol you consume and quitting or avoiding smoking go a long way to reducing your risk of hypertension and helping you stay healthy overall.
If you don't know what your current blood pressure is, schedule an appointment  to find out. Look here if you live in Illinois. Look here if you live in Wisconsin.
Related Posts
Comments
About the Author
Ben Hoekstra is a public affairs coordinator with Advocate Aurora Health. He previously worked in marketing and PR for various Milwaukee nonprofits and received his master's degree in Corporate Communications from Marquette University. He enjoys the outdoors, cooking, and all things Milwaukee.