Does intermittent fasting help you lose weight?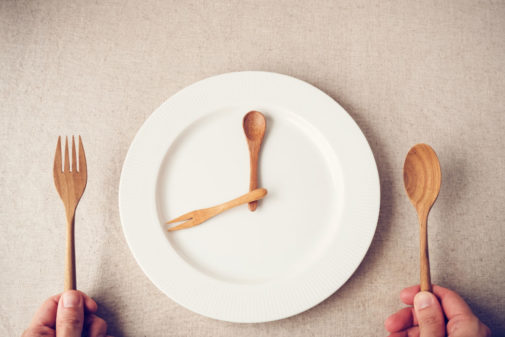 When you think of fasting, some people think of religious rituals, while others imagine not eating for periods of time as part of a trendy diet in order to "lose weight fast." But while many think of these as "hot right now" diet trends, a recent two-year study suggests an eating plan that includes fasting, or calorie restriction, could potentially be beneficial for your health.
Intermittent fasting (IF) is an eating plan that balances voluntary abstinence from food with eating on a schedule for periods lasting longer than a day. There are various intermittent fasting regimes and their success depends on your individual lifestyle and duration of the fasting period.
"While IF does not focus on what to eat, but rather when to eat, it's still equally important to eat healthy and provide your body with nutrients it needs," said Bonnie Shariati, registered dietitian at Advocate Lutheran General Hospital. "You should incorporate protein, fiber such as fruits and vegetables, water and carbs into your meals."
What type of intermittent fasting approach is available?
5:2 diet: This diet involves eating normally for five days and two days out of the week you restrict your calories to 500 for women and 600 for men, per day.
Alternate-day fasting: During fasting days, there is no consumption of food. On the other days, there are no restrictions on food or beverages.
16/8 diet: The 16/8 diet, eating normally for eight hours and fasting for 16, is more sustainable. This option is more flexible and forgiving if you have late dinner plans or events.
"Naturally, some people gravitate towards this type of routine eating throughout the day without the intention of a weight loss diet," says Shariati. "Some people prefer to skip breakfast and instead eat lunch and dinner with few or no snacks in between."
So does it work?
Intermittent fasting helps insulin levels decrease low enough to start burning fat. It also results in less calorie consumption, which can contribute to weight loss.
Research indicates there are neurological benefits from fasting including treating the metabolic syndrome which is a risk factor for a variety of neurological diseases. People with certain conditions such as atherosclerosis, high cholesterol, and heart disease may benefit most from IF.
"There are some challenges with IF which is why it requires the right candidate and advice from a medical professional," Shariati said. "Dehydration, heart burn, hunger and obsession with food thoughts can occur and can be detrimental to the health of the individual. With any restricted meal plan, you should speak with a medical professional who can use lab work to track and measure goals so that you can learn how your body reacts and adjust as needed."
Are you trying to watch your weight? Take a free online quiz to learn more about your healthy weight range here.
Related Posts
Comments
About the Author
Neda Veselinovic, health enews contributor, is a public affairs coordinator at Advocate Lutheran General Hospital. She has more than five years of public relations experience and most recently worked with clients in the travel and hospitality industries. She prefers to spend her time with a cup of coffee and a good read and always welcomes book recommendations.