What you need to know about traveling this summer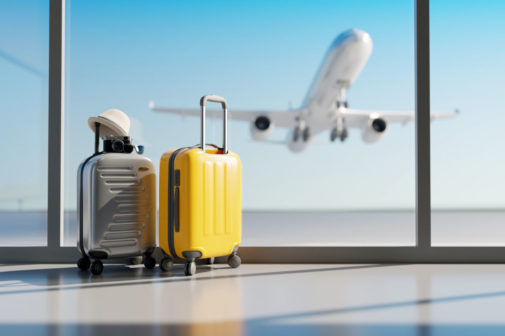 As COVID cases decline and restrictions are lifted in many communities, it feels like this summer is a great chance to reconnect with friends and family. As you're planning trips this summer, experts say there are a few things you should keep in mind.
Different kinds of travel have different levels of risk, said Dr. Minhaj Husain, infectious disease specialist at Aurora St. Luke's Medical Center. A road trip, for example, is pretty safe, especially if everyone in the car is vaccinated. Traveling on airplanes also pose a smaller risk because of the way the air is filtered. Large groups of people in indoor spaces like an airport or bus station pose a little more risk. In public transportation settings like the bus stop or airport, it's important to keep following guidelines like masking, using hand sanitizer and social distancing.
The most important thing you can do to travel safely is make sure you and everyone you are traveling with is vaccinated. For people who have gotten both doses of the COVID-19 vaccine, a lot of travel can return to normal.
"If you are vaccinated and everyone you are traveling with is vaccinated, you can do many of the things you are doing before," said Dr. Husain. "You can get back to some of the things you were missing out on. We want people to get out there and have fun and travel, just as safely as possible."
If you aren't vaccinated or you're traveling with people who aren't – including children – it's important to continue following guidelines. Anyone who isn't vaccinated should be tested for COVID 1-3 days before leaving and 3-4 days after returning. Masking and social distancing are also important. If you're experiencing any symptoms or have been around someone who tested positive for COVID, even if you are vaccinated, delay or avoid travelling.
"We're not 100% out of the woods yet. Monitor symptoms, be self-aware, and take precautions," said Dr. Husain. "If you have any trips planned, refer to the CDC website for travel recommendations or talk to your health care provider about how you can make your trip as safe as possible."
Are you trying to find a doctor? Look here if you live in Illinois. Look here if you live in Wisconsin.
Related Posts
Comments
About the Author
Ben Hoekstra is a public affairs coordinator with Advocate Health Care and Aurora Health Care. He previously worked in marketing and PR for various Milwaukee nonprofits and received his master's degree in Corporate Communications from Marquette University. He enjoys the outdoors, cooking, and all things Milwaukee.