What should you do with your vaccination card?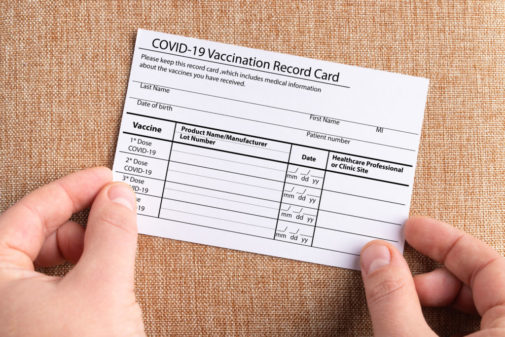 You scheduled an appointment, rolled up your sleeves and got the COVID-19 vaccine. When you were done, you were given a small card as proof of your jab. But you may be wondering what exactly to do with this piece of paper when you're not using it.
You could be required to show your vaccination card for work, school, summer camps, sports leagues, entertainment venues and if you travel outside the United States, among other activities, said Advocate Medical Group Family Medicine doctor Dr. Margaret Malicay, so it's important to keep it in a safe place.
"Treat it as you would your birth certificate, social security card, passport, marriage license or life insurance policy," Dr. Malicay said. "Put it away in a safe place at home and keep a copy on your phone or in your wallet."
Avoid laminating your vaccination card, Malicay said. Even if you're fully vaccinated, it is possible you may need a booster in the future, which will be documented on your original COVID-19 vaccine card.
Having a digital backup is a great way to keep your vaccination card on you without bringing the physical copy. You can also use a vaccine card holder to prevent stains and wear, although this is a personal preference and not required, Malicay said.
If you lose your vaccination card, you can reach out to the place where you were vaccinated to get another copy.
"Currently, I am asking my own patients to have their COVID-19 card scanned to their electronic medical record for documentation and conveniences should they lose it in the future," Malicay said. "Again, treat it with care like you would your drivers license or passport."
Related Posts
Comments
About the Author