80% of adults experience this in their lifetime. Are you one of them?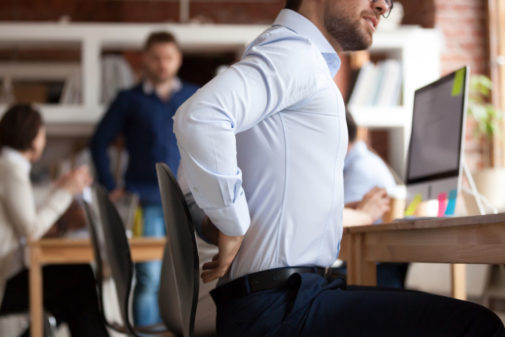 You've maybe felt it before. It's either a sharp, shooting pain that lasts for a few days or a dull pain that lasts for months. Whatever form it takes, back pain can be a chronic condition that ails more people than you might think.
In fact, according to the National Institutes of Health, approximately 80% of adults experience lower back pain at least once in their lives. It can be so debilitating that it is a top reason people miss work or file for disability.
"Back pain, which is the most common cause of disability under the age of 45, is a common but serious issue that can significantly impact one's quality of life, whether by slowing down your productivity at work or getting in the way of the things you love to do outside of work," says Dr. Raed Abusuwwa, a neurosurgeon at Advocate Good Samaritan Hospital.
"In medicine, it's important to follow evidence-based practices. With regard to back pain, the evidence shows that the majority of patients with back pain can recover from this condition without undergoing an operation," Dr. Abusuwwa says. "Of course, treatment plans are tailored based on the patient's unique situation. By capturing the patient's symptoms and circumstances as well as medical imaging, we can start to understand the whole story of what's going on with their pain and create an actionable plan with the patient from there."
Treatment options run the gamut, from injections and physical adjustments to minimally invasive surgery.
Dr. Abusuwwa adds that there are steps people can take to minimize their risk of experiencing low back pain:
Stretch before any physical activity and avoid overexerting yourself, especially when attempting to carry heavy items.
Exercise regularly and keep a well-balanced diet. Maintaining a healthy weight means less pressure on your spine, which would otherwise lead to back pain.
Watch your posture. If you sit at a desk all day, you want to support your spinal health by sitting in chairs with good lumbar support and being mindful of your posture.
If you smoke, stop! One of the many dangers of smoking is reduced blood flow to the spine, which can cause it to deteriorate and later cause back pain.
"The goal is to have a fully active and productive life without limitation. These prevention tips will help keep back pain at bay, but if your back pain starts to become unbearable, I highly suggest working with your physician to understand the source of pain and create a treatment plan that is tailored to you," Dr. Abusuwwa says.
Are you feeling back or neck pain? Take a free online quiz to learn more.
Read more:
Related Posts
Comments
About the Author
Jaimie Oh, health enews contributor, is regional manager of public affairs and marketing at Advocate Health Care. She earned her Bachelor's Degree in Journalism from the University of Missouri-Columbia and has nearly a decade of experience working in publishing, strategic communications and marketing. Outside of work, Jaimie trains for marathons with the goal of running 50 races before she turns 50 years old.