Culturally informed care can reduce health disparities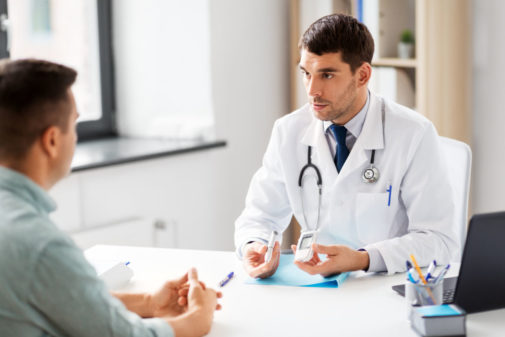 Health inequities were thrown into sharp relief during the pandemic, and Hispanic and Latino communities were hit especially hard by COVID-19, in part because of higher instances of chronic disease, such as diabetes.
According to the CDC, more than half of Hispanic and Latino Americans are likely to develop Type 2 diabetes during their lifetime, and to develop it at a younger age than their white neighbors. Like COVID-19, they're also more likely to develop severe complications such as kidney failure or blindness.
To avoid these and other complications, patients must learn to manage their bloods sugar levels and make healthier choices every day — eating healthy food, being physically active, taking prescribed medication, and getting regular check-ups. These changes can be challenging to manage.
"A diabetes diagnosis can be overwhelming for anyone, but coupled with language barriers and cultural differences it can quickly spiral out of control," said Christina Schmidt, a diabetes educator at Advocate Sherman Hospital, and a local Certified School Nurse. "I know that having a provider you can relate to and who lives in your community is critical to success."
These additional barriers can mean that some patients are less likely to understand treatment instructions and make lifestyle changes. But, the benefits of overcoming them can mean better health for the whole family.
Schmidt knows that one of the biggest concerns for her patients is being able to prepare the food they love, while still managing their disease. Which is why she focuses on offering tips on how to cook their favorite foods in healthier ways which not only helps them better manage their blood sugar, but can help the rest of the family make healthier food choices too.
Hispanic and Latino kids and teens are at higher risk for developing Type 2 diabetes, just like their parents. By helping them learn heathier habits earlier in life, Schmidt hopes her programs can reduce their risk of developing diabetes and other chronic diseases throughout their lifetime.
"Because I'm Mexican American, I'm able to provide hands-on care that my patients need in a language they understand," Schmidt continued.
In addition to healthy recipes, Schmidt's diabetes education programs focus on creating a community to support each participant with their new lifestyle. For example, she created a specific group for women with gestational diabetes, and says, "The pregnant ladies who come to my class want to get together, swap recipes and build comradery" through their shared diagnosis and experience.
As for her advice, Schmidt encourages everyone to get informed. Knowing the signs and symptoms of Type 2 diabetes is a first step. These include having to urinate a lot, blurry vision, being very thirsty or hungry, losing weight without trying, having numb or tingling hands or feet, feeling very tired, dry skin and sores that heal slowly. Any of these symptoms is cause for concern, and Schmidt recommends getting your blood sugar tested. You can also understand your risk for diabetes by taking our short health risk assessment or talking to your doctor.
"With the right approach," Schmidt concluded, "We can help people manage the disease and improve their overall health. We can reverse these troubling trends by offering culturally informed care."
Are you trying to find a doctor? Look here if you live in Illinois. Look here if you live in Wisconsin.
Related Posts
Comments
About the Author
Kristen Johnson, health enews contributor, is a public affairs and marketing manager with Advocate Aurora Health. She previously worked as a speechwriter and staffer on Capitol Hill. She enjoys running marathons, good coffee and exploring Chicago's many neighborhoods.