'I enjoy helping people live and feel well.'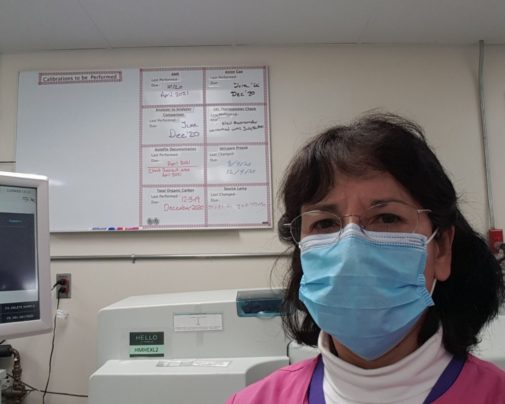 As a medical technologist at Aurora Medical Center – Washington County, Rosa Aguila-Lopez loves her work because she enjoys helping people live and feel well.
"It is very important to me to take care of people and educate them about how they can take care of themselves," she said. "I enjoy connecting with patients and working alongside my coworkers."
Aguila-Lopez was born and raised in Mexico, where she earned a degree in microbiology. When she moved to Wisconsin 26 years ago, she further built on this degree to work in the lab and also studied English.
However, her native tongue comes in handy when she speaks with patients who are Hispanic or also speak Spanish. After five years in her current role, she's found a shared language puts them at ease and makes them feel more comfortable to open up, share their stories, and ask more questions.
"I like to help by talking to them and doing what I can to help them," Aguila-Lopez says. "Some people share their stories of when they first moved to the United States and I like to encourage and reassure them that they are doing a good job."
While she misses her family in Mexico, she said she, her husband and her sons keep the culture alive in their home in Wisconsin. She even says she doesn't need to miss the food because "everything that you can imagine is here." She's proud of her Mexican heritage, from the food, to mariachi music to the rich culture.
"To me, Hispanic Heritage Month means that the Hispanic community and our history has contributed to American society and culture," Aguila-Lopez shares. "The Hispanic population contributes so much to the United States and I am very proud to be a part of the Hispanic community."
Related Posts
Comments
About the Author
"Hannah Koerner is a Public Affairs Specialist with Advocate Aurora Health. She received her Bachelor of Arts in Communication from the University of Wisconsin – Green Bay. In her free time, she enjoys biking, snowshoeing, and cheering on Wisconsin sports teams."