Achieving her dreams in the medical world and passing it on to the next generation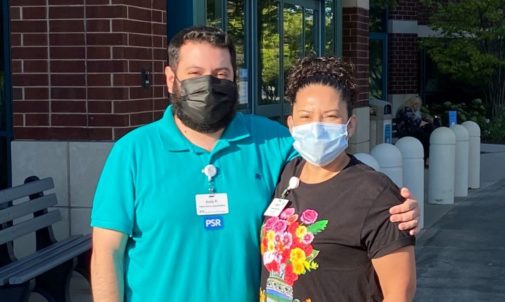 In her 14 years at Aurora BayCare Medical Center in Green Bay, Wisconsin, Alma Ponce said she's felt valued, celebrated, and encouraged by the growth in Hispanic hospital patients and team members.
"It feels great to be a Hispanic in this community and working for Aurora BayCare," said Ponce. "I feel like when I see Hispanic patients come through the door, I can see that they just get a sense of relief of seeing somebody that speaks their language, and someone that understands them."
Ponce says she's been able to make connections to Hispanic community members through her job.
"We're very united and so we open up to each other," she says. "I walk out of work with a sense of fulfillment, because I know that I've made their day."
Ponce worked several roles after starting in 2007, first as a health unit clerk, to patient service representative, then as a surgery scheduler. She now works night shift in the Emergency Department so she could go to school during the day.
Ponce fell in love with the medical world and is now working on her registered nursing degree. She says Aurora BayCare has helped motivate her to continue her education, and says she has always felt supported.
"They told me from day one when I told them I wanted to go into nursing school that they would do everything possible to help me get my degree," Ponce said. "I've never felt this much flexibility, welcoming, nurturing in helping you progress yourself and grow."
Ponce says Aurora BayCare has helped with tuition for her schooling and flexible scheduling. While school can be stressful at times, spending countless hours in the Emergency Department has also helped her make connections to the curriculum she's learning.
"Even in school when I learn things, then I'm in the ED and it'll click, and I'm like oh wait, I learned about that," she adds.
Ponce says she's not the only one growing. In the 14 years she's been with Aurora BayCare, she's noticed the increase in patients the hospital is seeing.
"That's where it's been going since day one," she said "Before we were busy — but we didn't know what busy was until now. We are at the busiest time we've ever been since it's opened."
Ponce constantly talks about work at home, and even got her son, Andrew interested in the medical world. During the pandemic, Andrew joined the Aurora BayCare family as a screener, and now six months in he's working in pediatrics as a patient service representative.
"He loves it, he absolutely loves it—he says he feels so welcomed, he feels like he's a part of a family," she adds.
She understands the feeling he's talking about. While the pandemic comes with challenges in the medical world, Ponce says it's her passion and there's nowhere else she'd rather be than at Aurora BayCare.
"If I were to leave, I would seriously lose myself. After I moved here from California, I didn't have a lot of friends, but I now consider everyone I work with my friends. They are like family to me," said Ponce.
Related Posts
Comments
About the Author
Cearron Bagenda, health enews contributor, is a Public Affairs Coordinator with Advocate Aurora Health. She previously worked as a TV news reporter and fill-in anchor covering medical, political, feature and breaking news stories at CBS 58 in Milwaukee, WBAY-TV ABC in Green Bay and NBC Nebraska- Scottsbluff. Cearron enjoys spending time outside with her three dogs, biking, traveling and interior decorating.