Becoming the role model she needed as a kid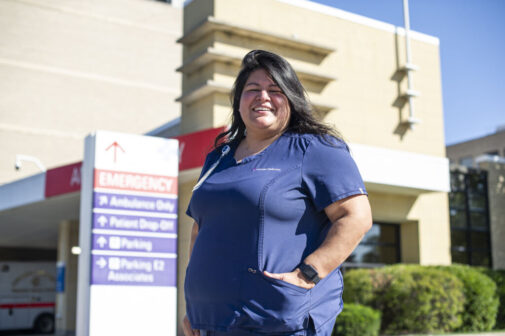 Intensive Care Unit Manager Berenice Simpson has a running joke with her younger sister, Xareni, who holds a master's degree in communications and a master's degree in business administration.
"We like to laugh and tell each other, 'Nobody can give us any crap about not being able to accomplish what they want to do in life,'" Simpson says.
That's because Simpson and her sister are living proof that you can excel — even if it looks like the odds are stacked against you.
"Most people don't believe my story when I tell them at first," Simpson says.
When looking at Simpson, you might assume that in her youth, role models were easy to find. She's a registered nurse at Advocate Trinity Hospital in Chicago, which shares a zip code with the city's largest Mexican community. She has a bachelor's degree in nursing and will complete a master's degree in nursing leadership and management by the end of 2023. She loves her work. And Simpson is married to the love of her life – and together they have two daughters.
"I'm a huge believer that hard work pays off. I definitely had to work for my happiness," she says.
Up until her late teens, Simpson's life in Chicago's Northwest suburbs included absent parents, family substance abuse, schoolyard fights and a deep yearning to belong. She eventually found herself on the fast-track to gang membership – a lifestyle she feared and didn't want.
So, at 17 years old, Simpson decided to turn her life around. She reunited with her mother, sister and younger brother. Then, took a job as a hospital transporter to help support her family financially.
"Growing up I didn't see or know anyone with an education beyond high school. My aunts and uncles all worked in a factory," she says.
As it turns out, going to work in a hospital changed Simpson's life.
"A nurse at the hospital took me under her wing. She taught me my foundation on how to care for others and put people first," Simpson says, adding that her newfound passion for helping others inspired her to enroll in nursing school.
However, Simpson quickly learned that putting people first sometimes comes at a cost. Because she needed to work long hours to raise her siblings, her studies suffered. As a result, Simpson was forced to drop out of nursing school.
The weight of her responsibilities continued to grow over the next several years: A family member attempted suicide, and her then-fiancée succeeded. Simpson also watched close relatives struggle with substance abuse. That's until her nurse mentor taught her the importance of self-care and connected Simpson to resources her family needed to get healthier.
"For the first time I realized that substance abuse and mental illness are sometimes the same thing. In the Hispanic culture you really don't talk about it…mental illness and trauma," Simpson says. "I learned that I needed to look out for myself to keep from going down."
When Simpson learned how to set boundaries, her life began to shift. She married husband Nick, started a family and went back to nursing school.
"We have to make sacrifices for our kids to look up to us, so I got my butt back in nursing school," Simpson says. "I want my daughters and other youth to know that women can have both a family and a career."
Yet despite her family's unwavering support, completing her nursing studies was still a struggle. Between long work weeks as a unit secretary, a full course load and long commutes between school, home, and work, Simpson found herself sleeping in her car many nights.
"It took me almost 10 years to get my nursing degree," Simpson says. But the journey was worthwhile.
In fact, she says the lessons she learned along the way, drive her to share her knowledge outside the hospital by educating the Hispanic community about preventive care, mental health, and educational and career opportunities.
Simpson says her personal mission is to mentor members of her ICU team, nurses throughout Advocate Trinity Hospital and Hispanic youths facing life challenges. When she's not working at the hospital, Simpson helps empower underserved students to become the next generation of leaders in Chicago as a new associate board member of Chicago Scholars. She also serves on the National Association of Hispanic Nurses' recruitment committee to encourage Hispanic people of all ages to join the nursing profession.
"I learned I need to be what I was looking for as a kid. I want to make it okay for people to know that no matter what they had to go through or what problems they may have, they're not broken. You can be successful," says Simpson.
Related Posts
Comments
About the Author
Cassie Richardson, health enews contributor, is regional coordinator on the Public Affairs team for Advocate Health Care and Aurora Health Care. She has more than 10 years of experience in health care communications, marketing, media and public relations. Cassie is a fan of musical theater and movies. When she's not spreading the word about health and wellness advancements, she enjoys writing fiction.