Can you get the flu after the flu shot?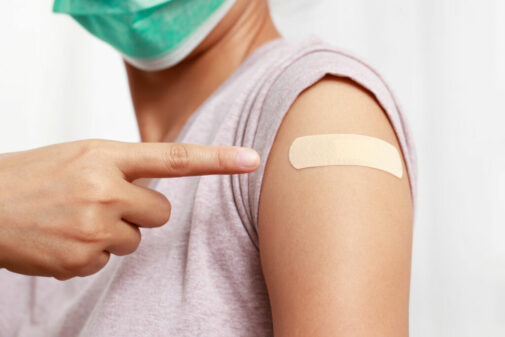 Flu season is here. With dropping temperatures and shorter days comes a higher risk of getting the flu. But the risk doesn't stop there. Many people can actually transmit the virus to others a day before they ever show symptoms. The flu may not pose much risk to you, but it might be more dangerous for people around you—especially very young children or older adults.
Each year, scientists determine which strain of the flu is most likely to be common and develop a vaccine specifically for that strain. The flu vaccine uses an inactivated, or "dead," form of the virus, so you can't get the flu from the flu shot. It takes about two weeks after getting the shot for the vaccine to be effective.
It's possible to get infected in that two-week period or to be exposed to a different strain of the flu and still come down with it. However, getting the flu shot does reduce both the risk of getting the flu and the severity of the disease, along with helping prevent you from transmitting it to others.
That's why medical professionals like Bridget Bolterstein, nurse practitioner at Aurora St. Luke's South Shore Medical Center, recommend getting the flu vaccine.
"Getting the flu vaccine decreases your chance of getting a severe case and transmitting the disease," said Bolterstein. "You could still get the flu after being vaccinated, but you'll likely have a much milder case."
The flu vaccine does provide protection against infection, however it's especially important to reduce the severity of flu cases and the amount of transmission.
"Even if you're young and healthy, you can spread disease to others, even a day before your symptoms start," said Bolterstein. "That means you could spread a potentially fatal or severe illness to your friend's newborn, your grandmother, or someone you know who has a condition such as diabetes, lung disease or an immunocompromised state that makes them more likely to have a severe case."
In addition to getting the flu vaccine, practicing good hand hygiene is still important when it comes to flu season. If you're feeling sick, stay home so you don't spread it to others.
Now is the perfect time to make an appointment with a primary care physician. Whether you live in Illinois or Wisconsin, it's easy to find a doctor near you. 
Related Posts
Comments
About the Author
Ben Hoekstra is a public affairs coordinator with Advocate Aurora Health. He previously worked in marketing and PR for various Milwaukee nonprofits and received his master's degree in Corporate Communications from Marquette University. He enjoys the outdoors, cooking, and all things Milwaukee.