Pediatric surgeon and U.S. Army veteran who served in Afghanistan: 'Parents are parents everywhere'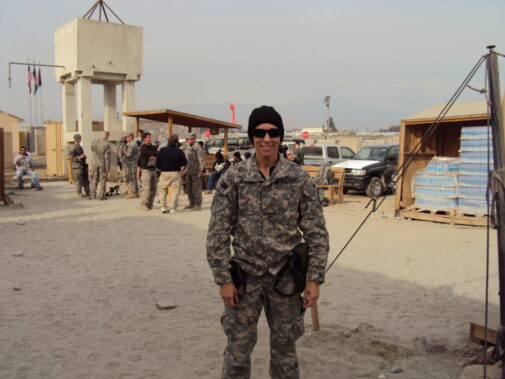 Dr. Kristina Sinacori Walick, U.S. Army Veteran and Pediatric Orthopedic Surgeon at Advocate Children's Hospital, is still humbled by her experience serving in Afghanistan nearly 13 years ago.
Thanks to a surge of patriotism she felt witnessing the Gulf War as a teenager, Dr. Walick decided to pursue her undergraduate degree from West Point, the United States Military Academy. From there, she attended Tulane University for medical school, completed her orthopedic surgery residency at the Brooke Army Medical Center in San Antonio and finally her fellowship at the Texas Scottish Rite Hospital for Children in Dallas.
In 2009, Dr. Walick was among a group deployed to Afghanistan. During her deployment, she was stationed at a forward operating base (FOB) near the Pakistan border designed to provide life and limb-saving care. She served as a general orthopedic surgeon and worked with a small 10-person medical team to provide life and limb saving care for injured soldiers before they could be transported to a higher level of medical care.
In her FOB, equipment was limited. They didn't have access to standard X-ray, advanced imaging, or certain tools, equipment and high-end plates and screws Dr. Walick was used to back in the states. Her team had to be make do with what they had. This taught her to be more creative and innovative as a surgeon, she said.
In addition to caring for soldiers, when time allowed, Dr. Walick said her team would care for the people who lived in the mountains of Afghanistan near their base. The children and adults who traveled to the base's gates for medical care were pro-American and came from an environment with no running water and no electricity. Almost all had never seen a doctor in their entire life.
"We did a lot of fracture care – such as for children who fell off a roof, out of a tree or off the back of a vehicle," Dr. Walick said. "Then there was the war-related trauma care. Many of the children injured were simply innocent bystanders who got shot or had severe injury due to run-ins with unexploded devices left over from previous wars in their country. I was amazed at some of the things I saw, from a medical perspective."
The number one type of care Dr. Walick administered to locals during her time in Afghanistan was wound care for burns. Especially in colder winter months, locals would cook over open fire inside their adobe huts. This led to children encountering fire, water burns from boiling water and huts catching fire.
While life circumstances were certainly different for the Afghani people who lived around her base, Dr. Walick said she also discovered so many similarities. As a pediatric specialist, she was witness to what she describes as a universal truth among parents.
"Parents are parents everywhere. It doesn't matter where you live, when you are a parent, you love your child unconditionally and just wanted the best for them," Dr. Walick said. "My team and I did all we could to make the locals lives better while we were stationed there – especially the children that would come to us for care."
This Veterans Day, Dr. Walick said she'd like to help others understand the variety of missions U.S. soldiers work on while serving overseas. The perception of deployment and war is not always correct, she said.
"These soldiers are working to make the world a better place," Dr. Walick said. "They're delivering supplies, giving out life-saving immunizations, bringing education to villages and helping with local infrastructure. I think there's a misconception that our soldiers are out there engaging in fighting every day, and that's not true. They're making personal sacrifices every day for this country so we can all live in a better place."
Dr. Walick said her time in Afghanistan led her to be incredibly grateful for her own life – her family unit, her home with running water and electricity, access to advanced medical care and other comforts afforded to free citizens. Coming home to a safe environment, even as simple as living in a place where her kids could be free to ride their bikes in the street, left her with a newfound appreciation for life as an American.
That's why Dr. Walick believes U.S. veterans and active military deserve so much respect this month – and every day.
"I am humbled to be in the same category as those who served – many much longer than myself – and who have given so much of their lives to serving the greater good," Dr. Walick said. "The brotherhood and sisterhood I experienced while serving, the camaraderie of soldiers caring for one another in times of distress, is something I'll never forget."
Related Posts
Comments
About the Author
Bridget Kozlowski, health enews contributor, is a public affairs manager with Advocate Aurora Health. She holds a masters degree in Public Affairs and a bachelor's degree in journalism, both from the University of Missouri. Bridget previously worked as a reporter for the Chicago Tribune and has also lead local government communications teams for both the City of Sterling Heights, Michigan and the Village of Lombard, Ill. Bridget loves trying new restaurants, traveling and spending as much time as possible with her son, husband and rescue mutt.