Employing our veterans and honoring their service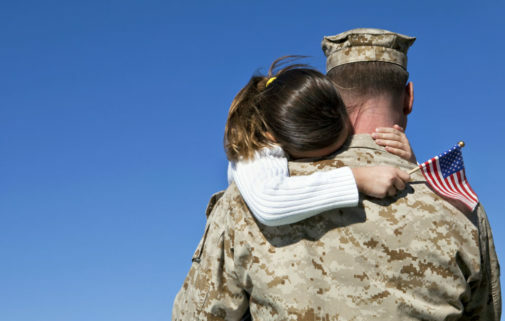 Through service and sacrifice, veterans are valued contributors to the workforce and patient communities. The training and skills received while serving our country can benefit a variety of roles – giving veterans more career options than many may realize.
Jason Jahnke is the regulatory coordinator at Advocate Good Shepherd Hospital and serves as the Chair of the Advocate Aurora Health Veterans Committee along with Co-Chair Bridget Borum. His experience as a military veteran gives him an advantage when it comes to connecting with other veterans and understanding what they bring to the table.
"Veterans have so many skills but don't always know how to articulate that onto a resume," said Jahnke. "They have some of the top leadership training but that's not always recognized."
One way Advocate Aurora Health is helping to bridge these gaps is through the Veterans Re-training program where veterans, no matter where they are in life, can receive the support and tools they need to re-enter civilian life while navigating challenges like seeking employment. Borum, director of Diversity and Inclusion Talent Acquisition at Advocate Aurora, explains why employers should seek out hiring veterans in today's job market.
"We've found veterans to be long-tenured team members with skillsets that show high performance and dedication to their role," Borum said. "Because of this, we're looking to grow the number of veterans we employ at Advocate Aurora by meeting them where they are and presenting opportunities for continued growth and professional development."
There are many roles and positions that fit the experience and skills of veterans, but many are often unfairly judged or are met with preconceived ideas about their mental health and ability to work with others. While some veterans do experience post-traumatic stress disorder, many do not and are able to utilize their military experience in ways that can positively impact an organization.
"A company's preconceived notion about a veteran having PTSD is a big obstacle for veterans and can make them hesitant to self-identify or share their veteran status," said Jahnke. "As a veteran, I feel I'm better equipped to manage high stress situations and can stay calm under pressure. When you've been trained to lead through the most daunting situations and show strength through it all – it really helps you see the big picture in any situation so that you can quickly process and get things under control."
In honor of Veterans Day on Nov. 11, we thank our veterans for their service to our country. Learn more about Advocate Aurora's commitment to building a community and culture where veterans can work, thrive and live well.
Related Posts
Comments
About the Author
Latoya Campbell, health enews contributor, is a Public Affairs Coordinator at Advocate Aurora Health. She has a BS degree in Communications/Broadcast Journalism from the University of Illinois Urbana-Champaign and previously worked in digital and graphic marketing for a public library. She enjoys spending time with her family and friends, fitness activities and a good spa day.