Biden's routine colonoscopy echoes benefit of preventive screenings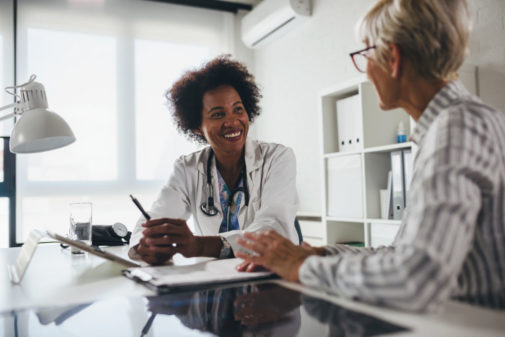 President Joe Biden had a potentially pre-cancerous polyp removed after a recent routine colonoscopy. According to the American Cancer Society polyps are non-cancerous growths. However, cancer can start in some types of polyps including an adenoma, a polyp made up of tissue that looks much like the normal lining of a colon.
Advocate Illinois Masonic Medical Center's Medical Director of Digestive Health Dr. Andrew Albert says the message is clear and powerful.
"Colonoscopies should be routine to prevent colon cancer that occurs in 1 in 22 people," said Dr. Albert. "Biden receiving his routine colonoscopy will hopefully help establish a norm that all people need to follow when it comes to getting colon screenings."
In President Biden's case, doctors found a polyp in 2008 and again now in 2021. Just like in this case, people who have had a polyp found in a screening are more likely to produce them again over time. And then screenings are even more important.
Dr. Albert explains that there are guidelines that speak to how often one should get a colonoscopy. That may vary depending on if polyps have been found in previous screenings and if so, how many. The recommended cadence of a patient's future colonoscopy screening is not only correlated with age but also to the findings of their past or recent colonoscopies.
"For example, if a doctor finds one polyp it is recommended for that individual to come back for a colonoscopy in five years. If three polyps are identified, the person should come back in three years. Often cadence is dictated by the number of noncancerous tumors found in someone's colon," said Dr. Albert.
Dr. Albert explains polyps frequently form from genetic predisposition. They are also more likely to be discovered in people who eat high-calorie diets likely containing a lot of meat and cheese.
"When people eat fatty foods, they increase their risk of forming polyps and that increases the risk of cancer. An unhealthy diet also contributes to obesity that is also a risk factor for colorectal cancer," said Dr. Albert.
President Biden's case serves as a perfect example of the benefit of preventive screenings.  America is now reassured that the President will be in a healthier place because his pre-cancerous polyp was found and removed before it was made a danger to his health.
When it comes to colon cancer Dr. Albert stresses the importance of being proactive with your health rather than being reactive.
Unfortunately, Dr. Albert notes that the compliance rate for colon cancer screening is about 40% of people between the ages of 50 and 54. The good news is that the compliance rate for colorectal cancer screening has increased to the 50-60% range in those older than the age of 54, but there is still more work to be done in raising awareness of the importance of preventive screenings.
"Only 40% of people get their colon cancer screening on time and that leads to increased mortality by the time the colon cancer is found," said Dr. Albert. "Biden sharing his colonoscopy story will hopefully help decrease barriers to adherence of people in the community who are otherwise afraid of having it," said Dr. Albert.
Want to learn more about your risk for colorectal cancer? Take a free online quiz here.
Related Posts
Comments
About the Author