Here's how to cope with common holiday stressors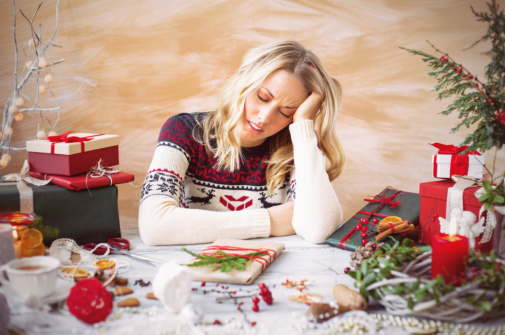 For many, the holiday season can be both a time of great joy and of stress and anxiety.
Whether it is finding the ultimate gift, cooking the juiciest turkey, making ends meet or battling the season's doldrums, this time of year can be hard.
"A lot of the holidays is trying to figure out how to manage the stress – things are hectic, you have a lot of demands on your time and there are the pressures of all the parties and events and buying things," says Sarah Katula, an advanced practice psychiatric nurse at Advocate Good Samaritan Hospital in Downers Grove, Ill.
"It can be hard to pay attention to what's most important – the meaning and value of the holiday, whatever that means to you."
Katula offers a few common stressors and some advice to handle each:
The stress of tradition and making things "perfect"
People can put a lot of pressure on themselves during the season in pursuit of the perfect holiday.
It's important to remember nothing is, she says, and the holidays can be richer through those imperfections.
"For many people, there is this need to be perfect around this time," she says. "People should try to focus on letting go of that idea and to cherish when we are not – those are the funny stories."
Instead, try to manage expectations for yourself and those around you. The goal could simply be to have an enjoyable holiday with plenty of time for relaxation. Similarly, families should make time for holiday traditions but be open to making room for new ones or tweaking old ones to make them more manageable, she says.
"Families evolve and change over time," she says. "They need to be flexible and open and ready when a tradition may change."
Intense schedules and financials
Though we refer to our vacation time in December as a "holiday break", it sometimes doesn't feel like much of one. Different celebrations, services, obligations, shopping trips and seasonal traditions can eat up a lot of time and money.
"Self-care is really important," Katula says. "It's always important to get enough sleep, not drink too much, avoid overeating or eating too much sugar and to spend time with your friends."
One solution for the financial burden is to consciously avoid overspending, opting for homemade gifts or shared experiences. Conversations with loved ones about the meaning of the holidays can also go a long way to manage pressure and expectations.
Also, don't be afraid to say no, Katula says – setting limits and cutting back on commitments can help ensure you have enough holiday spirit to last throughout the season.
Loss of friends and family in the prior year
The holidays are frequently seen as a time to be with friends and family, which can be hard if a loved one is absent.
"It can certainly be a difficult holiday for many," Katula says. "It can be a time for mourning or grieving. Try to ask how best to honor the people who have passed."
Holiday and winter depression
Whether it's an emotional trigger, additional stress, Seasonal Affective Disorder or other reasons, the holidays can sometimes be a driver of depression or other mental health issues, Katula says.
She encourages people struggling to seek extra support if they find themselves in need, and for those in their lives to try to provide that extra support if asked or needed. "Take time for yourself," she says. "Continue taking your medications, and stick as close as you can to the activities of daily living and structure."
She also encourages those in therapy to consider additional appointments throughout the holiday season.
Family conflict
With holidays come family, and for many, with family comes stress and fighting.
Katula says the only way to face the stress is to meet it with set boundaries and plans.
Presenting the clear message that you are uninterested in getting involved in a conflict while still being present in the festivities can help head off conflicts before they escalate. She suggests having an exit plan when cornered by critical or stressful relatives.
"You want to be the one to set the tone when you come into the house. And when there's conflict, say, 'I don't want to discuss this right now. I came to this event with peace and joy,'" she says. "The message you are sending to everybody is that you are setting a boundary and a tone and expectation."
Related Posts
Comments
About the Author
Nathan Lurz, health enews contributor, is a public affairs coordinator at Advocate Good Samaritan Hospital. He has nearly a decade of professional news experience as a reporter and editor, and a lifetime of experience as an enthusiastic learner. On the side, he enjoys writing even more, tabletop games, reading, running and explaining that his dog is actually the cutest dog, not yours, sorry.