How one woman is thriving despite a lifelong heart condition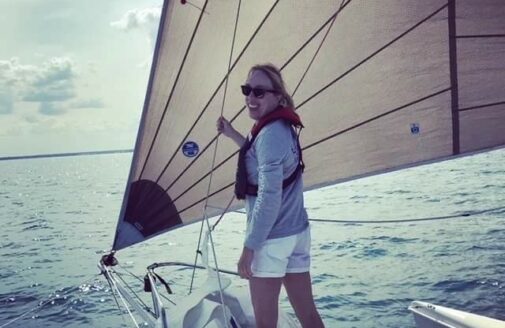 Since the moment she was born in 1982, Heidi Peters has been a fighter. Her lifelong challenge: a congenital heart defect — a defect in the structure of the heart or great vessels that is present at birth. Heidi was one of the 40,000 babies affected across the United States each year.
As an infant, Heidi's condition was described as severe, and given her tremendously complex anatomy, options to address her defect were limited. At the age of 9, she began having trouble breathing. It was at this point that Heidi had her first heart surgery, the Fontan procedure, which redirects the blue and red blood to the right places. After two weeks in the hospital, Heidi recovered and continued to live "as normally as possible."
There were some limitations as a teen and college student, but Heidi didn't let them get in the way. She earned a degree in fashion design and marketing and then moved to London to pursue her dreams.
"A lot of people knew about my condition, while others did not," says Heidi. "When I traveled internationally, I would carry a letter that would alert caregivers in the event of an emergency."
"Heidi has definitely had some bumps in the road, but she is role model for all of us," says Dr. Michael Earing, a cardiologist and medical director of the Adult Congenital Heart Program at the Chicagoland Children's Health Alliance. The Alliance is a partnership between Advocate Children's Hospital, pediatrics at NorthShore University HealthSystem and University of Chicago Medicine Comer Children's Hospital. "Heidi's story is a testament to all of the advances we have seen in both medical and surgical care for congenital heart patients. Eighty percent of patients born with congenital heart defects prior to the 1970s would not have survived. Heidi, on the other hand, is example to all patients challenged with life-long medical problems, rising above and pursuing her dreams every day."
That life now includes completion of an executive master's degree in business administration that helped land Heidi her job in health care procurement and supply management. She credits the love and support of family and friends, as well as talented and compassionate caregivers for getting her through. She credits Dr. Earing and his team at the Adult Congenital Heart Program for helping to coordinate all of her health care needs. That team recognized that she needed a pacemaker early this year.
"The pacemaker is a prime example of how the team helps me deal with both my physical and mental health challenges," says Heidi. "I felt special and blessed to have them to help determine what care is best for me."
"Data shows that many young people like Heidi with congenital heart disease often lose touch with health care providers between the ages of 18-25," says Dr. Earing. "It is so important that they transition their care to an Adult Congenital Heart Program, such as ours. We keep patients out of the emergency room and hospital by recognizing issues early and treating them. Our goal is to have any more success stories like Heidi's to share. She understands that while she has a chronic condition, it does not stop her from living her fullest life possible. We're here to help."
Related Posts
Comments
About the Author
Evonne Woloshyn, health enews contributor, is director of public affairs at Advocate Children's Hospital. Evonne began her career as an anchor and reporter in broadcast news. Over the past 20 years, she has worked in health care marketing in both Ohio and Illinois. Evonne loves to travel, spend time with family and is an avid Pittsburgh Steelers fan!